Time and date
CONSTRUCTION DIRECTORY
Morpheus Glass

Contact Details
Contact
Stephanie Bowen/Ian O brien
Address
Unit 11 Hewitt Business Park
Winstanley Road
Wigan
County Lancashire
WN5 7XB
England UK
About Morpheus Glass
Fused Glass by Morpheus Glass
A collection of fused glass creations…
Fused glass is unique, no two pieces can ever be the same. My fascination with colour and patterns always shows through in the fused glass I produce. Organic lines and blended colours form the basis of my designs. Every choice I make, every individual element, each piece of metal I place and every different colour I add all combine in the firing process, reacting in the kiln between layers of fused glass to result in the finished work.
What I love most about the techniques I use and this incredible material combined is that they ensure originality every time. Fused glass has an unusual charming and addictive quality. The way it looks different in different lights, the way in which light can pass through it creating the most incredible reflections of the colours within it, the beauty of the delicate colours and the impact of the strong bold bright colours, the scope for designs within it, the possibilities are endless. The more I see it and work with it the more I learn, it never fails to surprise me.
I enjoy exploring new ideas: it's a personal journey, developing my ideas, techniques and myself in order to keep my ideas fresh and exciting. My work develops naturally, as if on a cycle, one thing leads to another, usually with a fairly smooth transition. Every time a new collection is born there are always elements of the previous collection in it, I take my favourite parts of one to make another, always trying to improve and learn from previous experience.
Morpheus Glass
offers a full bespoke design service to suit each individual clients needs. You can choose from a spectrum of vibrant and exciting colours, a range of beautiful designs and a collection of brilliant, organic textures. After the initial consultation each piece is carefully designed and made to meet your own specifications. Every piece of Morpheus Glass fused glass is completely unique, individual and finished to the highest quality.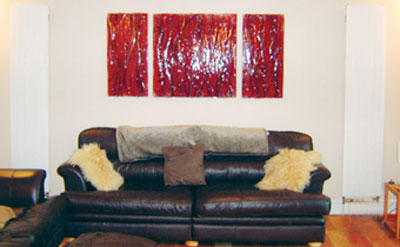 Morpheus Glass Serves The Following Areas