Time and date
CONSTRUCTION DIRECTORY
RLC DRY-STONE WALLING LTD

Contact Details
Address
55 Heather Road
Meltham
County West Yorkshire
HD9 4HT
England
About RLC DRY-STONE WALLING LTD
Specialist in dry stone creations. Comprehensive and creative design, providing fresh, imaginative and pragmatic works to a variety of briefs. Dry stone walls and a great deal else besides. Supplying and installing garden features such as natural stone water features, fountains and sculptures.
Proud to supply top-quality new and reclaimed stone for every kind of property development.
Our website will show you the range and quality of our work.
We are associated with the UK's top drystone walling contract company.
No job is too large!
Gold Medal Winner at the Chelsea Flower Show.
Please call us to discuss your project.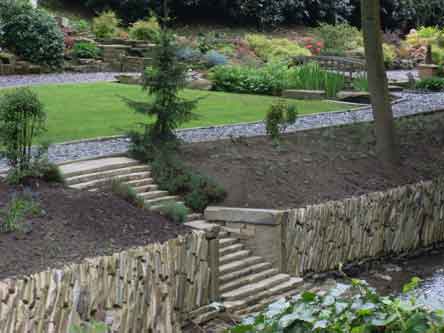 Streamside wall and steps
Traditional dry stone retaining wall
to the garden stream.
Waterfall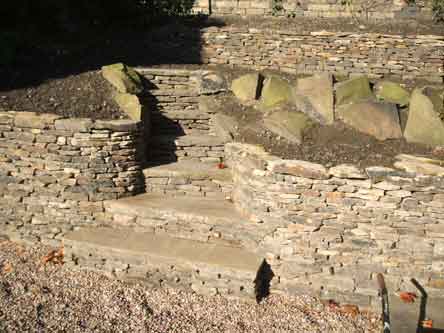 Smart cottage garden, ready to plant

Covering the following counties:
Greater London - Surrey - Oxfordshire - Berkshire - Bucks - Herts
Cheshire - Greater Manchester - Lancashire - Yorkshire
Reviews & Testimonials for RLC DRY-STONE WALLING LTD

November 22, 2015
Richard Clegg Dry Stone Walling provide not just excellent work but are totally reliable and trustworthy. I can confidently recommend their services.
RLC DRY-STONE WALLING LTD.

5

out of

5

based on

1

ratings.
Gallery
Click to close
News
21/08/2018
Chelsea Flower Show 2018
---
The landscape design and build genius (and fellow Yorkshire man) Mark Gregory contacted me in the summer of 2017 with the proposition of being on board with his team to build the Yorkshire garden 2018, a garden that ultimately attained Gold and Best Construction. Before I had agreed prices or even had confirmation from the sponsors, Welcome To Yorkshire, I was on my Triumph Bonneville and off to Wensleydale in the North Yorkshire Dales. I rode around the gorgeous countryside soaking in the influences such as the dry stone walls, the type of stonework used in the contruction of the houses and the flowing becks with their cascading waterfalls.

Then came the official word to get stuck in from WTY. I had a tall order to find all the materials for Mark's design. Realizing the size of the task I struck gold by approaching the Bolton Estate. They had everything I could wish for on their land. Dry stone walling, beautiful feature boulders and all the stone from the their beck I would need. We committed to return all the materials for the sake of the precious environment.
Then came the adventure of bagging and loading the stone for Chelsea. We went out to the moors whilst the snow was still on the ground,and the sleet was thrashing down. The only way to achieve an authentic garden is to use authentic materials and the best way to get a feel for those materials is to handle them in their environment. Then came the fine details such as the rusty fence wire, an abandoned swallows nest and a soon to be famous cow pat!

As you can see from the pictures , the whole thing came together wonderfully. The garden took on a life of it's own and will stay in my memory. A true high point....And here's to Chelsea 2019 , another Yorkshire garden !!

I would like to thank the Construction.co.uk team for their constant support in marketing my business. They created and manage my website and listings. Top people!

08/02/2016
Chelsea Flower Show 2016
---
Richard Clegg Dry Stone Walling are working in London and the home counties,Yorkshire and Central Europe! We are happy to discuss your project. Please call Richard on 07904860135

22/11/2015
Chelsea Flower Show 2016
---
We are pleased to announce that Richard Clegg Dry Stone Walling is working at Chelsea 2016.
Products & Services
Dry stone walling in London and the Home Counties and Yorkshire
Working with Gold and Silver Gilt RHS garden designers
Large and small dry stone wall projects to commercial and domestic clients
Dry Stone Walling, pond and waterfalls, garden folly design and build.
Walling and creative stone work to medal winning designs at Chelsea Flower Show
Creative artistic bespoke stone work
supply of building and walling stone
RLC DRY-STONE WALLING LTD Serves The Following Areas
Find RLC DRY-STONE WALLING LTD in
RLC DRY-STONE WALLING LTD General Description
Dry stone walling Yorkshire, Exhibition Dry stone walling,Water feature design,Water feature builders,Koi Pond Builders,Garden pond builders,Folly builders,Dry stone walling stone supply,Stone masons,Huddersfield,Berkshire,Buckinghamshire,Essex,Hertfordshire,Kent,Surrey,