Time and date
CONSTRUCTION DIRECTORY
Cradle Access Services Ltd

Contact Details
Address
P O Box 70
Erith
County Kent
DA8 3WY
England UK
About Cradle Access Services Ltd
Each Peak Is The Beginning Of The Next Target
Cradle Access Services Limited supply, refurbish and maintain all types of building access equipment.
Cradle Access Services Ltd is an independent company that has earned a long term reputation for their input and services to the suspended access industry synonymous with quality and design excellence with a commitment to safety.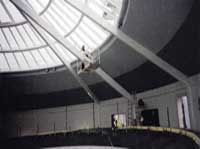 Our ILERI range of equipment is technically ingenious and creative providing the access solutions that the architects of today's demand. It is our forward thinking that allows Cradle Access to remain at the forefront of this highly specialised industry.
Products
MODEL CA/PM1 BMU:
A space saving roof trolley for buildings with very limited space and to compliment the trolley it has its own slewing motor so when not in use the trolley can be turned inbound and lowered so the trolley is almost out of sight.
The double rail system can negotiate up to 90 degree bends so as to follow the contours of the building. The rails are made of a tubular section with internal spigots at the joints thus giving a smooth visual line. The tube sections could be at a height to also act as a safety edge protection barrier.
MODEL CA/TB1 BMU:
Telescopic arm roof trolleys designed to meet varying changes of the building face with designs that can now reach up to 35 meters with the use of hydraulics in the buffing arm, operation is smooth, silent and very safe.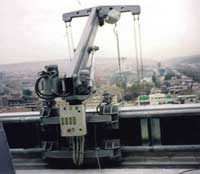 MODEL CA/SC1 CRADLES:
Our CA/SC1 slewing cradle has been designed so that at the touch of a button the whole centre of the cradle can rotate up to 90 degrees to provide access to either a recess or undercut without the cumbersome pantograph action that has only been available up to today.
MODEL CA/ST1 SPECIALS:
Today's building designs have meant that the way they are cleaned and maintained requires specialist equipment to be developed that meets customers needs effectively, efficiently and professionally. This model CA/ST1 was developed with the need to access the glass facade at the top of the shopping complex that could not be solved by using conventional equipment.
MODEL CA/GS GANTRIES:
Gantry systems are available to suit any aesthetic requirement, building configuration, glazing, angle/shape and interior/exterior application in either manual or powered systems.
MODEL SPECIAL PROJECTS:
Whatever system is selected it will be both practical and in keeping with the look of the building and establishing a distinct reputation for quality and a commitment to safety. All equipment is designed and manufactured with a quality system in place so that the final product meets all requirements. All mils steel tracks and components after manufacture are hot dipped galvanised, all roof trolleys are shot blasted, zinc flame sprayed and painted also aluminium sections will be powder coated at the customer's request. Our planned maintenance programme ensures the long and trouble free life of all our products.
Cradle Access Services Ltd Serves The Following Areas
Find Cradle Access Services Ltd in