Time and date
CONSTRUCTION DIRECTORY
Address
Deerpark
Ravensdale
County Co Louth
About Reglaze
Re-glaze - Double-glaze solutions
Our aim is to bring you a service that will improve the comfort of your home by preventing the loss of costly heat and to reduce the misery suffered through cold draughts. In doing this we hope to increase the value and enjoyment of your home.
Our Service to you is ...
1.
Survey and Estimate
We carry out a survey of your existing windows and advise you of the options available then quote you an all-inclusive price for carrying out the work.
2.
Protection and care on arrival
Our company operates a policy, which places the care and protection of your property as our uppermost priority. We aim to make the experience of having your windows converted a pleasant and trouble free one by causing the minimum of disruption and nuisance to your normal daily activities.
3.
Nature of work to be carried out
After the removal of your old glass your existing windows will be expertly adapted by our own unique machining methods, which have been developed through working both in Ireland and North America. The outside of the window frame will be lightly sanded and a new high quality seal double glazed unit fitted. Installation work will be completed with the fitting of new hardwood slips and the painting of the outside of the window frame.
4.
Post Installation Service and Care
Our work has not finished yet! We will undertake to check all hinges and handles. We will bring any of these items, which are considered worn, and in need of repair to your attention and carry out any additional repairs at a small-agreed additional cost
All dirt and debris resulting from the installation process will be thoroughly removed. Windows will then be cleaned and sealed.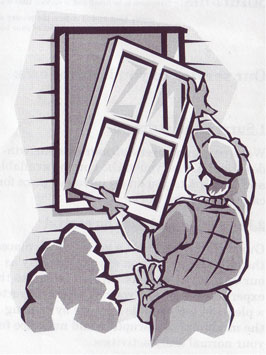 Reglaze Serves The Following Areas