Time and date
CONSTRUCTION DIRECTORY
Lynmore Sliding Wardrobes

Contact Details
Address
Aghamore
Ballyhaunis
County Co Mayo
Republic of Ireland
About Lynmore Sliding Wardrobes

Lynmore Sliding Wardrobes - Lynmore Kitchens

Achieve your dream Kitchen
Achieving your dream Kitchen can become a reality if you invest in a Lynmore custom built kitchen. Over the years we have become the leader in the West of Ireland for custom made kitchens.
The first and most important step in achieving your dream kitchen is the time spent planning and designing it. This is why you need to talk to us. We will listen to your ideas and requirements and discuss them with you, point out any potential problems and guide you step by step in achieving your dream kitchen.
The buying process
When you decide to make that investment in a new custom built kitchen, you want to make sure you will get what you want. We are committed to giving you individual attention. Ring us for an appointment at our showroom. We will then discuss your requirements and ideas. We can show you what makes our kitchens so special and you can decide on style, materials and appliances. Don't forget to bring a plan of your kitchen.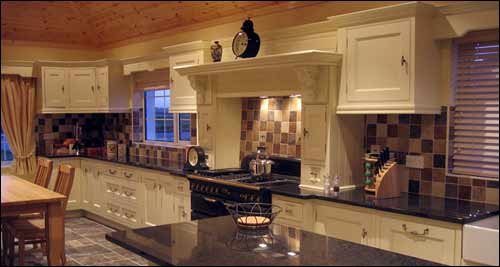 Once we've arrived at a chosen design and layout you'll get a free quotation. If you choose to go ahead, we'll ask for a deposit and give you a date for the kitchen to be built and installed.
Lynmore Sliding Wardrobes
A Lynmore sliding wardrobe gives you the maximum in storage space, without compromising style. You can choose from three styles with numerous variations, so you can be sure we have the sliding wardrobe to suit you and match your surroundings.
Our sliding wardrobes are manufactured to the highest standard at our joinery plant in Aghamore, delivered and installed nationwide by our own installers.
Achieve more space and light in your bedroom, order and neatness in your office or living area with a professionally installed Lynmore sliding wardrobe door system. Each door runs on precision runners making them easy, safe and quiet to use. Behind your new wardrobe doors lies a custom designed storage system, hand built to your requirements with just the right combination of hanging, drawer and cupboard space.
Buying a Lynmore Sliding Wardrobe
You can choose your wardrobe style and give us the measurements on the online form or on the phone (094 936 7302) for a quotation. If you are happy with our price we can arrange for one of our sales representatives to call out to you, to take the exact final measurements, show you in detail the possibilities for the interior and external finishes and give you a final free detailed quotation.
If you then decide to buy, we'll arrange an install date and we'll ask you for a deposit. This is required because all our fitted furniture is custom build specially for your home.
You can also view the sliding wardrobes in our showroom in Aghamore, Co Mayo.
Our Guarantee:
With numerous years of manufacturing experience and carrying the prestigious ISO 9001 Quality
Standard we offer our customers a no nonsense guarantee:
• Excellent value for money.
• Free design and consultancy service.
• Expertly fitted or DIY.
• Custom designed for your personal taste and budget.
• Mirrors are safety backed to BS 6206, making them totally safe - even in children's bedrooms.
• The unique wheel assembly using high quality bearings allows the doors, however large, to glide smoothly, silently and effortlessly.
• Anti-jump device ensures the doors will never come off the tracks.
• Independently tested, conforms to the requirements of BS 7449
Lynmore Sliding Wardrobes Serves The Following Areas
Find Lynmore Sliding Wardrobes in
Lynmore Sliding Wardrobes General Description
sliding wardrobes kitchens mayo connacht ireland