Time and date
CONSTRUCTION DIRECTORY
Dromad Hire Limited

Contact Details
Address
Dublin Road
Dundalk
County Co Louth
Ireland
About Dromad Hire Limited
Dromad Hire is the North East's leading hire company. Our ethos is to provide you with the most modern up to date hire equipment possible.
We stock a full range of height for hire & cherry pickers, everything from stick booms to skylifts, electric scissor lifts to access platforms, & articulated boom lifts.
We also stock a full range of floor care products from drum sanders, to buff sanders, edging sanders and carpet cleaners, not to mention the range of floor polishers, power washers & scrubber dryers. Our landscaping and ground-works range stocks all sizes of mini-diggers, augers, 4x4 dumpers, tracked dumpers, and excavators.
Our Toilet Division stocks a full range of cabin-toilets, portable toilets, disabled toilets, and stand alone urinals in maintained to the highest of standards with excellent delivery and weekly on-site servicing.
Our climate control division stock a full range of air condition units, energy saving patio heaters, indoor kerosene heaters, cooling fans and de-humidifiers.
Click
here
to download our e-catalogues.
In essence our Tool Hire shop is the one stop shop for all your rental Needs, DIY or Commercial!
We are constantly expanding our product range. Our most recent expansion is in fitness equipment hire
Fitness4hire.com
where you can exercise & shape up in the comfort of your own home! Another addition has been the opening of Dromad Service Shop where we repair and service all makes of equipment. We also stock a massive range of spare parts and accessories.
We have over 800 hire products available in store, and we have earned the reputation of being the leading hire company in Ireland.
Our mission is to provide value and in the current economic climate, it is essential that we provide low cost discounts, weekend deals, loyalty cards and still deliver the most up to date equipment to your home, site or business.
With our head office in Dundalk and the recent improvements in road infrastructure, we are now in a prime position to service anywhere throughout Ireland.
Our background before equipment hire was construction equipment maintenance. We understand the value and importance of providing our customers with equipment that is safe, capable and maintained to the highest standard. This is our ethos and it is deeply instilled within our team at Dromad.
Why hire from Dromad Hire?
We want you to call.
We care about our customers and want you to save money.
We provide value.
Our mobile customer support units provide 'zero downtime' with 24hr service.
Top specification equipment... Upgraded weekly.
Delivered to your home, site or business. On time. Every time.
Weekly 'on hire list' list provided to our customers.
Premier login facility to view your account / on hire list on-line
Full safety and operating instructions & demonstrations provided for every hire.
24 Hour Customer Support
Our customer support vans are equipped to the highest standards to allow our plant technicians to maintain and service the product on site.
Delivery
We are confident with our range of delivery vehicles and highly qualified drivers we can meet your delivery needs within a small timescale. We have a live tracking device which allows us to see where our deliveries are at any given time.
Service shop
Generator Servicing
On Site Hydraulic Hose Repair
Diesel Engines
Plant and Fleet Maintenance
Spares and Accessories
Lawnmower Servicing
Chainsaw Sharpening
Two/Four Stroke Engines
24h hour Call Out Service
Garden Equipment Sales
Repairs alone, of course are only half the story. A massive range of spare parts from a huge list of suppliers is sourced and stocked.
Commercial Equipment
Around the Home
Party & Events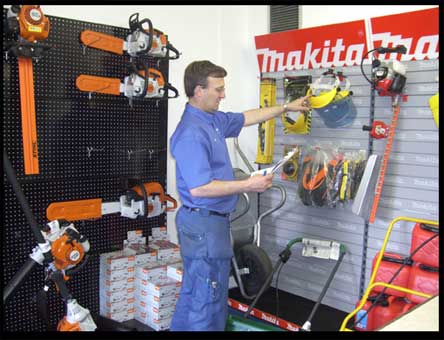 Dromad Hire Limited Serves The Following Areas