Time and date
CONSTRUCTION DIRECTORY
Tiernans Joinery

Contact Details
Address
The Sawmills
Ashfield
Cootehill
County Co Cavan
H16RO762
Ireland
About Tiernans Joinery
Established in 1975, Tiernans Joinery is a second generation family business but its roots go further back than that. Situated on the site of an old Estate Sawmill dating back to the 1800s, you could say we are steeped in the history and practice of quality carpentry and joinery innovations.
With clients throughout the UK, Ireland and the Isle of Man we have long established our reputation for the manufacture of one-off specialty features that are custom-built to client specifications.
Feature pieces are our speciality and the impossible? We do that today! With our experience and love of wood we select only the finest timbers and each job we undertake is treated as individual as the individual that commissioned its creation.
But a picture paints a thousand words - so let our work illustrate to you the innovative an beautiful pieces we have crafted by browsing through our Gallery.
These are only a few illustrations of what we can do so regardless of the scale involved - we can advise, design and consult with you to achieve the perfect solution.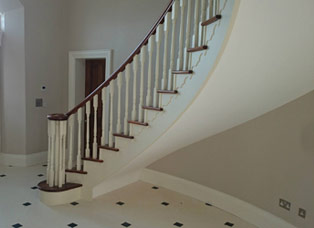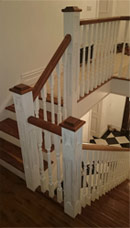 Stairs
Designing and manufacturing showpiece stairs and balustrades are the Tiernans Joinery hallmark.
Regardless of the complexity or the design brief, our specialised knowledge and perfected techniques can and will craft a stunning staircase from the finest timbers for any residential or commercial project.
We consult with you our client to assist on designing the solution, selecting the type of timber to be used and then we take over the manufacturing process.
Using highly developed laminating techniques we can accommodate seemingly impossible curves and fit them to the space required with pinpoint accuracy.
We are with you throughout each stage, from idea, to design, to timber selection then through to manufacture, transport, assembly, fitting and finishing the project.
We are confident that whatever the demands we have the aptitude and skill levels necessary to complete a unique and elegant addition to any home or commercial premises.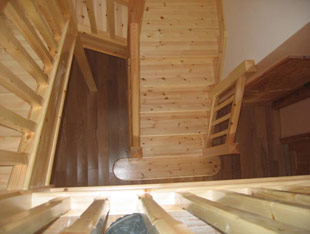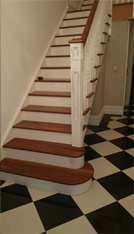 Steel
To complement any home we can provide stairs manufactured using a combination of timber and steel for additional effect.
Due to increasing demand we now manufacture a wide variety of stairs with steel to your own design preference.
Our expert craftsmen will fit your stairs to our exacting standards to complement the look and feel of your particular project.
Why not contact us to see what we can do for your home or commercial premises?
Joinery
We specialise in the production of one-off set piece stairwells, landings and decorative effects.
The craftsmen who work with our state of the art wood working machinery are artists in their own right and we take the time required to produce that exceptional result.
Quality of workmanship and bringing out the best of the natural beauty of wood is what we do best.
With a combination of specialist wood turning, routing and other techniques we bring together the skills and design innovation to create exceptional results.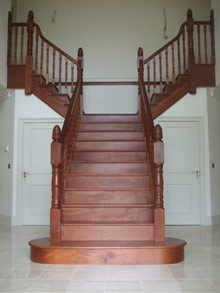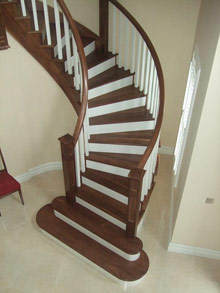 Gallery
Click to close
Tiernans Joinery Serves The Following Areas