Time and date
CONSTRUCTION DIRECTORY
Aisling Windows

Contact Details
Address
Menlo
County Galway
Ireland
About Aisling Windows
Based in Galway, Aisling Windows, Doors and Conservatories pride themselves on their workmanship and attention to detail. Aisling is the Irish for dream or vision, and the company's objective has always been to bring their customers' visions into existence.
Quite aptlyly, onwer George Flore's first ever project under his own company was St Joseph's Convent in Gort which features a colossal 270 windows. It was a huge undertaking which he will never forget. George says he learnt a huge amount about the intricacies of installation from the project. He belives ever installation is unique and it's vital that a project is evaluated on its own merit during the surveying process.
George worked for the two largest window companies in Ireland before establishing his own business – in 1978 he was a salesman for Weatherglaze Ltd which was responsible for introducing double glazing to Ireland. He went on to work for National Aluminium; these roles gave him a firm understanding of the business and a footing to start his own.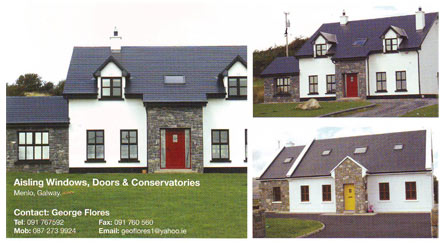 Aisling Windows, Doors and Conservatories
is now a friendly family business with two of George's sons and a daughter having worked for him. Prices are extremely competitive due to George's knowledge of the industry. It reflects favourably that over 80% of their business comes trhough recommendation. At the moment George is working on projects on the Aran Islands.
As energy conservationis such a modern concern all the windows at Aisling Windows, Doors and Conservatories come with insulated glass. They provide all types of insulated glass from leaded to bevelled and an array of borders. There is a 10 year guarantee on window frames and glass, all colours available. Both double glazing and triple glazing is supplied, the latter becoming very popular.
The doors all come with a multi-point locking system for maximum securiy and all panels are reinforced. They supply composite doors crafted from fibreglass which are exceptionally durable and display a more realistic timber effect. It is of considerable value to the customer that giving you exactly what you want at the best quality and workmanship is their ultimate goal.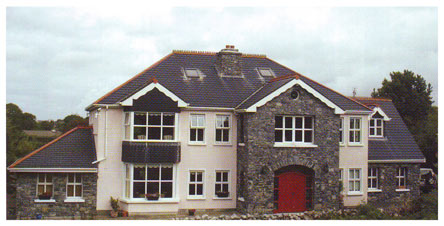 Aisling Windows Serves The Following Areas