Time and date
CONSTRUCTION DIRECTORY
Dundalk Plumbing Limited

Contact Details
Address
Mill Street
Dundalk
County Co Louth
Ireland
Click for opening hours
Monday
Tuesday
Wednesday
Thursday
Friday
Saturday
Sunday
Closed
Other Dates
OPEN BETWEEM 1PM AND 2PM
About Dundalk Plumbing Limited
We stock and supply the following products:
Gem Condensing Boilers, Ferroli Cast Iron Boilers, Sime Cast Iron Boilers, Heatmaster Radiators, Quinn Radiators, Merriott Radiators, Coppercraft Copper Cylinders, Ariston Pressurised Stainless Steel Cylinders, Ariston Gas Boilers, Albion UltraSteel Cylinders, Qualpex Pipe and Fittings Polyplumb Pipe and Fittings, Expansion Vessels, Domestic Expansion Vessels, Stainless Steel Flue Pipe, System Links, System Zones, Designer Radiators, Towel Radiators, Riello Burners, Bentone Burners and Harlequin Oil Tanks to name but a few.
We also Stock a wide range of Circulating, Booster and Shower Pumps from the following manufacturers:
Grundfos, DAB, Salamander, Diver, Lowara and New Team.
In Stock we also carry a large range of spare gas parts (PCB's, Gas Valves, Heat Exchangers, Fans, Ignitions Boxes, Pumps, Seal, ETC) for the following boiler manufacturers:
Vokera, Ariston, Baxi, Ideal, Potterton, Sime, Ferroli, Glowworm, Vissemann, Brittney and Heatline.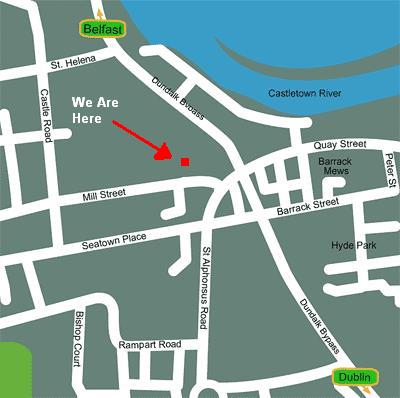 Contact us
for a free quote on all your heating requirements!!
Reviews & Testimonials for Dundalk Plumbing Limited

January 17, 2018
I am very thankful to Damien and his daughter Ruth who provided me excellent and professional service last week. Our gas boiler needed a new fan and he was able to source one for us in 24 hours when others needed 5 days. More than just saving the day and coming to our rescue, they were kind and helpful and really cared enough to make sure we did not have to live through a cold January weekend without heat or hot water. Excellent service and highly recommended!
Review by
Stacy Fitzgerald

March 23, 2012
Had a serious leak from pump and heating system was down on St. Patrick's Day 2012, it was on a Saturday and Damien sent his son out on the day and he fixed the problem, I can't believe the service, a Saturday and St. Patrick's Day - Can't begin to say how grateful I am and would give him a million stars if you let me :) Thanks Damien and Tony
Dundalk Plumbing Limited.

5

out of

5

based on

2

ratings.
Gallery
Click to close
Videos
Products & Services
Spare gas parts
New Team
Lowara
Diver
Salamander
DAB
Grundfos
Shower Pumps
Circulating Booster
Harlequin Oil Tanks
Bentone Burners
Riello Burners
Towel Radiators
Designer Radiators
System Zones
System Links
Stainless Steel Flue Pipe
Domestic Expansion Vessels
Expansion Vessels
Polyplumb Pipe and Fittings
Qualpex Pipe and Fittings
Albion UltraSteel Cylinders
Ariston Gas Boilers
Ariston Pressurised Stainless Steel Cylinders
Coppercraft Copper Cylinders
Merriott Radiators
Quinn Radiator
Heatmaster Radiators
Cast Iron boile
Gem Condensing Boilers
Heatline
Brittney
Vissemann
Glowworm
Ferroli
Sime
Potterton
Ideal
Baxi
Ariston
Vokera
Solar
Renewable Energy
Radiators
Plumbers Merchants
Plumbers
Heating Equipment Service
Heating Equipment Sales
Boiler Installation
Boiler Supply
Boiler Stoves
Boiler Parts
Boiler Maintenance
Bathroom Renovations
Bathroom Fixtures
Bathroom Equipment
Dundalk Plumbing Limited Serves The Following Areas
Dundalk Plumbing Limited General Description
Bathroom Equipment Bathroom Fixtures Bathroom Renovations Boiler Maintenance Boiler Parts Boiler Stoves Boiler Supply Boiler Installation Heating Equipment Sales Heating Equipment Service Plumbers Plumbers Merchants Radiators Renewable Energy Solar Ariston Nuos Plus water heater