Time and date
CONSTRUCTION DIRECTORY
McQuaid Engineering Ltd

Contact Details
Address
84 Cookstown Road
Dungannon
County Co Tyrone
BT71 4BS
About McQuaid Engineering Ltd
McQuaid Engineering Ltd manufacture and supply a range of attachments for the construction, recycling and quarry industries and with over ten years experience in design and manufacturing, the Tyrone, Northern Ireland, based firm have a proven record for superior product quality and service throughout the UK & Ireland and beyond.
For the construction industry McQuaid Engineering Ltd offer a full range of Fully Certified Mechanical Block Grabs and Hydraulic Block Grabs for use on forklifts, telehandlers, excavators and cranes. Our block grabs are designed to handle all types and sizes of kerbs, bricks and blocks.
The Mechanical Block Grab has a semi automatic gear system that alternates to engage and release loads, this eliminates slippage of blocks and needs only limited manual handling. Our Hydraulic block Grab comes with either free rotation or 360 degree powered hydraulic rotation and is designed with a universal knuckle joint allowing free movement for the grab to swing in all directions without impacting the carrier. We offer a full serving package, Maintenance, Repair & Certification on all types/makes of block grabs.
Our product portfolio also includes a range of excavator mounted Mechanical Grapples and Hydraulic Grabs specially designed for the waste, recycling and demolition industries including Selector/Demolition Grabs that are most commonly used for demolition work and the sorting and picking of waste at recycling centres. Sorting Grabs, 4 and 5 finger grabs that are most commonly used for scrap metal handling purposes and Mechanical Boxed Grapples that are most commonly used for timber, cardboard, and rock handling applications. All ranges can be used for the handling and processing of demolition, construction, timber, aggregate and domestic waste materials. We offer a full after sales spares, parts and maintenance service on all our recycling grabs and grapples.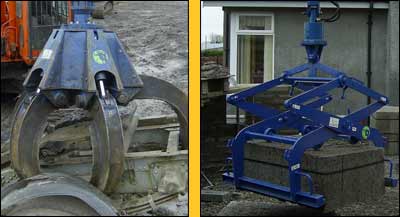 McQuaid Engineering Ltd also specialise in the manufacture and supply of a full range of Hydraulic Rock Breaker Booms for the quarry industry. We offer a range of Static Pedestal Breaker Booms suitable for all types of crusher; jaw, impact, cone and gyratory and a range of Mobile Breaker booms that are specially designed to mount onto all makes/models of mobile crusher.
A complete Turn Key Package is offered, this includes Breaker Boom, Hydraulic Breaker, Power Pack, Controls, Supporting Steelwork and Full Installation. A full After Sales Spares/Parts Service for McQuaid Booms & Viper Rock Breakers Booms is available.
McQuaid Engineering Ltd also stock and supply a range of Soosan breakers and Archimedes Rotators.
For more information or a quotation on any of our products please call our sales on 02887 749869.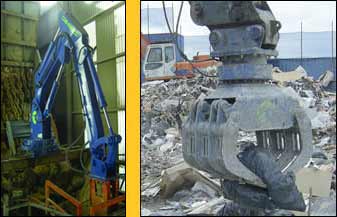 McQuaid Engineering Ltd Serves The Following Areas
Find McQuaid Engineering Ltd in