Time and date
CONSTRUCTION DIRECTORY
Address
Corrigan House
Bishopstown Road
Wilton
County Cork
T12 EF99
Ireland
About Allsafe
AllSafe Limited
was established in 1996 as a risk management and safety consultancy company to assist a wide variety of industries in the complex area of managing safety, health and welfare in the workplace.
The moral responsibility to provide as safe a place of work for all employees as is reasonably practicable is put onto a statutory footing by a comprehensive array of Acts, Statutory Instruments, Codes of Practice, European Union Directives and guidelines.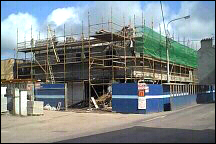 This 'ever changing' list of conditions and regulations, with which employers must comply, requires the specialised attention to detail, which AllSafe Ltd. provides for all our clients. The risk management service, which is implemented for our clients, also have the benefits of long-term reductions in insurance premiums due to the reduction in accidents and subsequent insurance claims.
Peter Fehily, M.D. has worked at management level in various industries, including mining and construction, for over 20 years before entering the safety industry over 10 years ago. Since 1996, AllSafe has grown to meet the demand for safety advice, primarily in the construction industry, but also in the fields of fish processing, concrete production, quarrying, mechanical engineering, catering, electronics, retailing, oil storage depots, manufacturing, glazing, woodworking/joinery, painting, warehousing and civil engineering.
The fully trained and qualified staff on the AllSafe team are committed to assisting all our clients to meet their moral and legal responsibilities in securing the safety of their employees, visitors and public affected by their work activities. The management and consultancy service provided includes safety audits and reports, Safety Statements, safety training, hazard and risk assessments, safe operating procedures, noise surveys, fire safety audits, construction safety & health plans, plant operator training, manual handling training, method statement preparation and accident investigation for further prevention measures.
Allsafe Serves The Following Areas