Time and date
CONSTRUCTION DIRECTORY
Fusion Building Systems

Contact Details
Contact
Arthur Morgan or Stuart Fitzgerald
Address
Ringport
Ringaskiddy
County Co Cork
Ireland
About Fusion Building Systems
Fusion aid training in Modern Methods of Construction
Fusion Building Systems were delighted to take part in the recent SmartLIFE Training event held at the SmartLIFE Training Centre, Cambridgeshire for two days on 5th and 6th June 2007.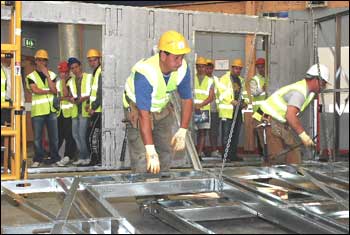 Fusion donated a ground floor unit of their factory insulated steel frame, complete with floor cassettes, to SmartLIFE Training Centre to enable students from Cambridgeshire Regional College to train in the erection of light steel frame - the future of construction. Russell Coleman (Fusion Project Manager), Ian Shires and Jozef Schon (Fusion Erectors) played a key part in the event, actively displaying their skills in steel frame construction and working enthusiastically with the students. Students observed the erection of Fusion's revolutionary factory insulated steel frame structure, from drilling the steel frame panels into the concrete slab to the final fixing of the floor cassettes, to create the completed ground floor unit.
Russell Coleman said: 'Fusion were delighted to have the opportunity to work with SmartLIFE and Cambridgeshire Regional College on this project. Fusion's team did a lot of background preparatory work; the steel frame panels were rolled specially for the event so as to provide the best means of displaying the Fusion system to the students.'
This collaborative initiative with SmartLIFE and CRC is part of Fusion's commitment to developing partnering and strategic alliances with key industry figures. Fusion is proud to be a part of SmartLIFE's groundbreaking commitment to developing construction students' MMC skills.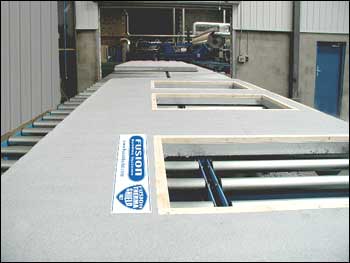 The Fusion system is experiencing rapid growth, in a market that is increasingly demanding proven modern methods of construction, particularly due to benefits such as programme savings and the potential to dramatically reduce waste on site. Fusion Building Systems offer a unique advantage to clients through their factory insulated steel frame system – 'Fusion Therma Shield 162' – which gives the potential to achieve excellent building energy ratings and airtightness.
Fusion Building Systems Serves The Following Areas
Find Fusion Building Systems in