Time and date
CONSTRUCTION DIRECTORY
Carlow Concrete Tanks

Contact Details
Address
Drumderry
Bunclody
County Wexford
Y21 AW83
Ireland
About Carlow Concrete Tanks
Carlow Concrete Tanks
can supply a range of standard and non standard high quality precast concrete products for a variety of Civil/Commercial, Domestic, Environmental and Agricultural applications throughout Ireland and the U.K. We have a strong tradition of excellence in the precast concrete industry and continually look to improve our production techniques through engineering excellence and in production and staff.
We operate on the basis of providing the customer with the highest quality concrete products to exceed their expectations.
Please visit our website or call our sales team, we will be happy to help you with any enquiry you may have for any of the following products listed below. If you need assistance with a difficult project and you need structural advice you can avail of our FREE design service. Ask for our Technical Design Department and they can discuss it with you in detail.
Products that are designed, manufactured, delivered and installed by ourselves include:
Domestic / Environmental
'Biogreen' Sewage Treatment Systems
Septic Tanks
'RAINstar' Rainwater Harvesting Systems
Decorative Boundary Walls (Double -Faced)
Boiler Rooms / Wood Pellet Houses
Swimming Pools


Agricultural
Slurry Tanks
Slatted Tanks
Drinking Troughs
Feeding Troughs
Slot Drains
Cattle Grids
Secure Diesel Storage Tanks
General Products
Control Houses
Road Barriers
Grit & Silt Traps
Valve Chambers
Overflow / Storage Tanks
Grease Traps
Motorway Inspection Boxes
Kelly Blocks
Pumping Chambers & Petrol Interceptors


Commercial
Pumping Chambers
Petrol/Oil Separators
Effluent Treatment Tanks
Boundary Walls
Motorway Walls
Fire Retention Tanks
Reservoirs
Cover Slabs
Screen Chambers
Inlet Flume Chambers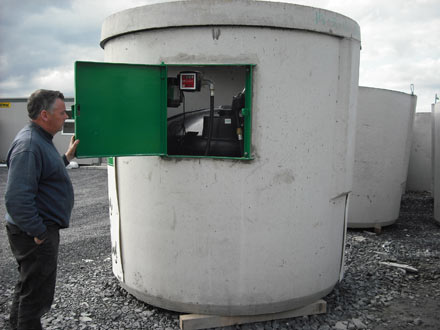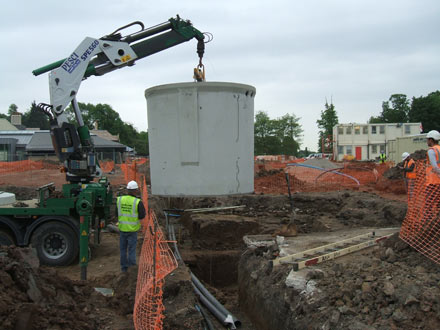 Gallery
Click to close
Products & Services
Tanks to Irish Water Standard
Bespoke Products
Treatment Systems
Septic Tanks
Effluent Tanks
Slatted Tanks
Water Treatment
Water Tanks and Water Storage
Water Management
Wastewater Treatment Equipment
Tank Suppliers
Stormwater Attenuation
Septic Tanks
Pumping Stations
Pump Stations
Precast Concrete
Concrete Suppliers
Concrete Products
Carlow Concrete Tanks Serves The Following Areas
Find Carlow Concrete Tanks in
Carlow Concrete Tanks General Description
Concrete Products Concrete Suppliers Precast Concrete Pump Stations Pumping Stations Septic Tanks Tank Suppliers Wastewater Treatment Equipment Water Management Water Tanks and Water Storage Water Treatment Stormwater Attenuation Walls Rainwater Harvesting CSO Concrete Pump Sumps Bespoke Design