Time and date
CONSTRUCTION DIRECTORY
Gurney Fire Safety Ltd

Contact Details
Address
14 Blackburn Crescent
Derry
County Co Londonderry
BT47 5QG
Northern Ireland
About Gurney Fire Safety Ltd
Fire extinguishers, fire risk assessments and fire safety training throughout Londonderry.
Your business, local authority or voluntary organisation will meet its legal obligation through our work. Give yourself the peace of mind that in an emergency you will be prepared. We can assess the vulnerability of your organisation to fire. We offer training in safety procedures and safety equipment that saves lives in times of crisis.
Almost all premises require a fire risk assessment to comply with fire safety law. So give us a call today and we will give you professional solutions and paperwork to give you peace of mind and make you legally compliant.
You can use our expertise as many in the local community have. We will provide you with fire safety equipment, fire extinguishers and fire safety training at very competitive prices.

Ways that we can improve your fire safety:
Fire safety training, however it is convenient to you. We offer training both on-site and off-site.
Fire fighting equipment, such as signs and extinguishers.
Advice on legal obligations: we are experts who can make you fully compliant with the law.
Fire risk assessments: so you know how you can decrease or remove your areas of vulnerability.
Fire authority consultations.
Fire extinguisher maintenance.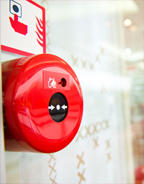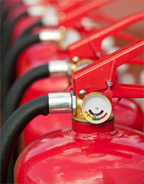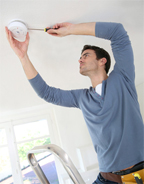 Our fire safety services are ideal for:
Hotels
Voluntary Organisations
Shops
Offices
Factories
Fire safety training throughout Londonderry
Gurney Fire Safety Limited knows that by law everyone has a responsibility for fire safety. We will give you all the necessary tools for you to show due diligence.
We offer our services to help you and your staff to understand what is required of them. We offer a comprehensive range of fire safety training to help your business or community meet their legal obligations regarding staff training for fire safety.

Fire safety equipment throughout Londonderry
When a fire strikes you will need the right equipment to protect your property, customers and staff. We offer equipment to prevent the outbreak of fire and to put them out effectively. From alarms to fire blankets, we will help you to reduce the danger and damage from fire.
Fire risk assessment throughout Londonderry
You can help to protect your business today with Gurney Fire Safety Limited. We will make sure your place of business is in full compliance with fire safety laws and well-equipped. We will come to you and do in-depth assessments of your building's vulnerabilities to fire and then we will advise you of the best ways to reduce those risks.

Gurney Fire Safety Ltd Serves The Following Areas
Find Gurney Fire Safety Ltd in
Gurney Fire Safety Ltd General Description
Providing fully insured training in all areas of fire safety across the north west or Northern Ireland