Time and date
CONSTRUCTION DIRECTORY
Komfort Workspace

Contact Details
Address
First Floor Block 43a
Park West Business Park
Dublin 12
About Komfort Workspace
Komfort Workspace plc
is one of Europe's largest designers and manufacturers of space dividing products for the office, health and education markets. It has four manufacturing facilities in the UK and five dedicated product divisions which include Partitions and Ceilings; Furniture and Storage; Doors, Panels and Joinery; Signage and Graphics; and Architectural Glass.
Partitioning Systems
Komfort's 14 partitioning systems include:
Klassic:
A veneered system which can incorporate differing glazing styles. Klassic provides complete flexibility and relocatability together with ease of assembly. It is also suitable for applications where sound and fire performance is a requirement.
Single/Double Glazed Polar:
Available in straight, faceted or curved glass modules. The system is silicone jointed and virtually frameless, with no vertical posts between modules, corners or junctions. In double glazed form the system is totally relocatable as no silicone is used, even at glass-to-glass joints.
PolarTec:
Offering a high level of structural, fire and acoustic performance whilst maintaining its ability to be demountable and relocatable. It is suitable for public areas with high volume traffic and in particular education establishments.
Polar 100:
A modular partition system incorporating single glazed, double glazed and solid panel elements. The visually monolithic system features flush skirting and a recessed head, and can incorporate glazed or timber doors within glazed or solid panel runs.
Polar Ice:
Pre-cast solid plaster glazing posts facilitate a seamless monolithic interface between glass and drywall partitions. A standard range of 3 metre posts, accommodating Polar single or double glazed partitions, eliminates the on site need to form correctly dimensioned glazing pockets and time consuming joints between plasterboard and metal beads.
Komfire and Kameo 75: Functional 75mm partitioning systems with a choice of either angular or radiused componentry. Komfire also comes in double skinned form as a 100mm system to provide enhanced sound and fire performance.
Mirage:
A gravity-hung panel system designed to be relocatable. Special clips provide tight joints without affecting ease of removal. The pre-punched steel stud and twist-lock transoms do not require any fixings.
Partitions for Health & CleanroomsCX Modular Wall & Doorset Systems:
The demountability and relocatability of the CX wall system allows flexibility in space and functionality as healthcare trends evolve. Services such as gas, electric/data, nurse call, light and IPS units are all pre-planned into the modular flush panels prior to delivery to site. Access to services and related fittings for all sanitary ware, DUG, DUH and Scrub-up troughs is available by removable front panel, rear panel or walk-in duct. This service capability is provided by stud and track components that allow a variable depth wall capability of 90mm to 1000mm. Solid panels, glazed units and doorsets that locate to the stud system are factory finished ensuring consistent quality and reducing both installation time and waste on site. The air permeability characteristics of the CX partition system enable a Class 8 Cleanroom capability to be achieved for inspection, assembly and packing (IAP) rooms within a sterile services department.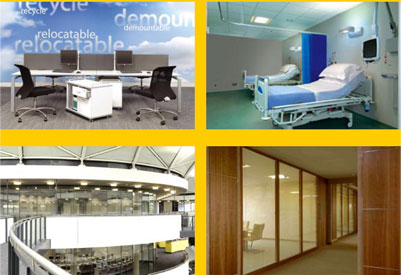 Komfort Workspace Serves The Following Areas
Find Komfort Workspace in
Komfort Workspace Branches
Komfort Workspace
Globe House, Parkrose Industrial Estate, 1 Middlemore Road, Birmingham, B66 2DR
Click to view telephone number
Komfort Workspace
The Hibernian Football Club Ltd, West Stand, 12 Albion Place, Edinburgh, EH7 5QG
Click to view telephone number
Komfort Workspace
8 Brindley Road, City Park, Business Park, Manchester, M16 9HQ
Click to view telephone number