Time and date
CONSTRUCTION DIRECTORY
HER (Home Energy Rating Ltd) Dublin

Contact Details
Address
HER House, Unit 34 Block 503
Grants Row, Greenogue Business Park
Rathcoole
County Dublin 12
Ireland
About HER (Home Energy Rating Ltd) Dublin
HER (Home Energy Rating Ltd.)
was founded by Vincent Fogarty and Seamus O'Doherty in November 2006 with the aim of providing Building Energy Rating certificates, energy audits and professional energy conservation advice to property developers and private individuals. This was in response to the introduction of legislation on 1st January 2007 which requires all new homes to provide a Building Energy Rating Certificate on sale or letting. This legislation will apply to all buildings, commercial and residential, new and second-hand from January 2009.
Since its inauguration, HER has expanded its team. Ann Sheehy joined the Board in May 2007 and we have recently expanded our team with further Engineers who are currently undergoing BER training.



SERVICES
Specialist Commercial Consultancy
Concept and Option Analysis - pre-planning consultancy, Part L compliance.

Pre-Build Energy Consultancy Commercial Buildings
We will work with you to deliver buildings that are not only Part L compliant, but also have the highest energy rating possible and lowest carbon emissions.

Bespoke Integrated Design Solutions
Designing your own work-space? HER's commercial consultants will work with you to achieve the work environment your business demands, complying with Part L and integrating suitable renewable energy installations to ensure your building is future-proofed.

BER Assessments & Certification
Since January 2007 all new homes being sold or let must have a Building Energy Rating Certificate demonstrating to potential occupiers how cost effective the home will be in terms of central heating, water heating and lighting. This legislation extends to new non-residential buildings from July 2008 and it will apply to second-hand buildings from January 2009. Developers should talk to us about our commercial rates.

Self Build Energy Consultancy
Building your own home? We will work with you to ensure you achieve the level of energy efficiency for your new home that optimises your budget and leaves scope for improvement in future years.

Energy Efficiency Audits
Our consultants will assess your current energy usage, examine windows & doors, insulation, lighting and general construction standards. Thermal imaging and air-tightness is often conducted as part of this audit. Following the visit you will receive a detailed report outlining the findings of the survey together with our recommendations on how to reduce your current energy consumption and future-proof your building.

Thermal Imaging
Using the latest in Thermal Imaging technology, we can identify the cold and hot spots in your building and pin-point where insulation may be defective or missing. Air infiltration causes the interior temperature to fall and warm air to escape leading to higher energy costs. Our report will recommend the most cost-effective methods of remedying any defects found.

Air Tightness/Leakage Testing
Generally conducted in conjunction with Thermal Imaging which will identify the weak points in the building, an air-tightness test identifies the extent of the air-leakage. A blower door is fitted over an exterior door opening and the speed of air-flow through the fan is measured. Following remedial works as much 30% can be saved on energy consumption with a comparable reduction in CO2 emissions. This test is best carried out during the construction phase.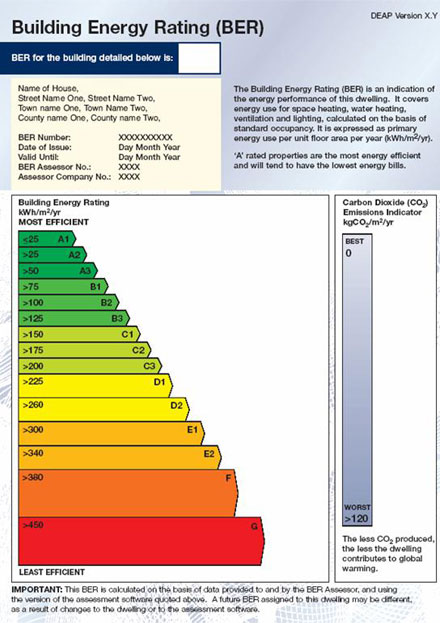 HER (Home Energy Rating Ltd) Dublin Serves The Following Areas
Find HER (Home Energy Rating Ltd) Dublin in