Time and date
CONSTRUCTION DIRECTORY
Adare Bio Care

Contact Details
Address
Tynedale House
Clonshaire
County Limerick
Ireland
About Adare Bio Care
About us
Adare BioCare Specialises in the installation of ecological wastewater treatment products, for both commercial and domestic markets.
Systems for single houses to small rural communities including villages, pubs/hotels and all types of leisure facilities. Treatment plants serve up to 15,000 population. We provide a full supply and installation including all civil works and commissioning.
In Compliance with International Standards
General compliance with the new upcoming EU Standard on small waste water treatment system BSEN 12566-3. This is a lifetime investment. Buy products covered by this standard.
Separators
The Conder range of CNSB Bypass Separators are designed and tested in accordance with BS EN858-1-2 and are proven to effectively separate oil and water under test to less than 1 parts per million and therefore protect the environment and public safety.
Water Treatment
The Atlasoft water softener range targets mainstream residential applications. The 10 litre cabinet comes with an autotrol valve (TC/Vol). The ever dependable autotrol valve is also present on the 30 litre cabinet.
Sewage 'Bison' - range
EPS Bison has further developed its range of packaged sewage treatment plants utilizing proven Submerged Aerated Filter (SAF) technology for optimum performance and dependability. Using reliable, cost effective and energy efficient blowers for aeration with an integral flow management system, the sewage treatment range is packaged for installation completely below ground. In standard configuration the plants offer treatment to a 20mg/l BOD; 30mg/l SS; 20mg/l NH3 effluent quality standard. Designed in accordance with BSEN12566-3:2005 (applicable for plants up to 50 population size) and with the EPA Code of Practice and EPA Flows and Loads, the EPS NSAF range will serve a population range from 8-50PE.
Pumping
Centrifugal Pumps with flow ranges from 10 to 900 litres/min and pressure ratings to 7 bar. Suitable for suction lifts up to 7 mtrs and liquid temperatures of 90 C. Recommended for clean and non-aggressive liquids. Cast iron construction with brass impeller. Widely used for Domestic and Commercial water distribution. Can be used with pressure vessels, variable speed drives and Electronic controllers.
Rainwater Harvesting
Nature delivers an abundant supply of soft rainwater directly to your property. Our houses already have an inbuilt collection device (roof, gutters, downpipes) delivering the water to ground level. All we need to do is divert this water through a filter to a storage tank to have it readily available for many uses in and around the house.
High Pressure Washing
M" SERIES is a new line of professional hot water cleaners. Suitable for the daily jobs where an optimal washing power is needed, above all in order to degrease with hot water binding surfaces affected by smog, oils and limestone. "M" cleaners are equipped with professional devices and accessories.
The Multiboost Range
Boost water pressure & flow
Compact design
Quiet and reliable
Ease of installation
Dry run protection
Applications Include: Domestic, Commercial, Agricultural, Industrial, Municipal
Need to boost your water pressure?
There are many reasons for experiencing low water pressure problems including high demand, location and shared supply. The Multiboost range is a self-contained cold water booster set specifically designed for use in domestic and light commercial properties where existing water pressure and flow is insufficient to meet demand. The range caters for all space and storage capacity requirements.
Where am I going to put it?
The Multiboost range has been designed to provide the end user with a variety of options in terms of water storage and usage requirements as well as availability of space. Typical installation areas include garages, plant rooms, utility rooms and basements.
What is the difference between the fixed speed and the variable speed version?
The fixed speed version has an adjustable pump controller that ensures you always have a minimum set pressure to your outlets. As demand increases the pressure will reduce as this is a characteristic of a fixed speed unit. The variable speed version has an intelligent pump controller that will supply a smooth flow of water to every outlet by maintaining a constant pressure throughout your property, speeding up and slowing down the pump to suit demand.
What size property will this supply?
The Multiboost range is scalable and additional capacity can be added for large properties or those with particularly poor incoming flow rates. We have designed the range to fit in all domestic and commercial properties (incoming flow rate and required usage must be taken into consideration).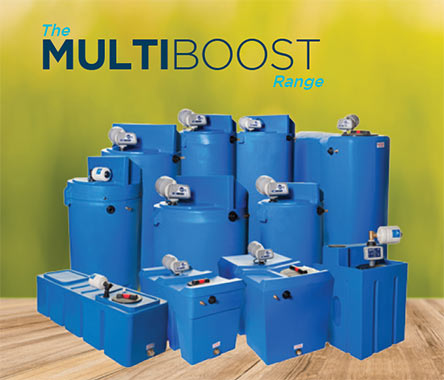 Gallery
Click to close
Products & Services
bio tanks munster
separators ireland
sewage treatment tanks limerick
sewage treatment systems munster
septic tanks limerick
septic tank upgrade munster
septic tank installation ireland
wash down tanks ireland
rainwater harvesting limerick
rain water tanks munster
percolation test ireland
site assessors limerick
Ecoflo Coco Filter munster
sand polishing filters ireland
Wastewater Treatment Equipment limerick
Water Features munster
Water Management ireland
Water Tanks and Water Storage limerick
Water Treatment munster
Adare Bio Care Serves The Following Areas
Adare Bio Care General Description
effluent treatment bio tanks separators sewage treatment tanks sewage treatment systems septic tank upgrade septic tank installation wash down tanks rainwater harvesting rain water tanks percolation test Ecoflo Coco Filter sand polishing filters Wastewater Treatment Equipment Water Management