Time and date
CONSTRUCTION DIRECTORY
Energy Efficient.ie

Contact Details
Address
Templehill
Carrigrohane
County Co Cork
Ireland
About Energy Efficient.ie
Energy Efficient
We provide a range of energy efficient heating and ventilation systems for use in houses and apartments. All these systems are from top quality manufacturers and are designed to deliver energy saving solutions which directly reduce your energy bills.
Heat Recovery Ventilation
Whole House Ventilation with Energy Recovery
* Controlled ventilation delivering fresh filtered air continuously
* Low energy consumption
* Built in humidity sensor
* Silent operation
* Over 90% heat recovery
Our homes are now required to be well insulated and airtight to conserve heating energy. As we achieve high levels of sealing the building fabric we compromise indoor air quality unless we use a controlled ventilation system. The most economical energy efficient solution to whole house ventilation is to install the Orcon HRV 300.
The Orcon HRV 300 is one of the most technologically advanced heat recovery ventilation systems on the market. It provides balanced ventilation with independently tested 95% heat recovery. Stale air is extracted from kitchen, utility, bathrooms and toilet and passed through a heat exchanger. The heat from the extracted stale air is transferred to incoming fresh filtered air which is delivered to the bedrooms and living areas.
Benefits
* Silent operation
* Simple controls
* Draught free ventilaion
* 95% heat recovery
* Eliminates condensation
* Low running costs - approximately €40 per year
* Reduces home heating costs
Ecodan Heat Pump
Advanced Heating Technology from Mitsubishi Electric
* Alternative to oil and gas boilers
* Low running costs
* Can be installed in new or existing houses
* Converts 1kW of electrical energy into 3.6kW of heat output
By simply using a Mitsubishi Electric Ecodan heat pump to provide domestic space heating and hot water, it is possible to greatly reduce CO2 emissions.
Using proven heat pump technology Ecodan upgrades naturally occurring energy from the air and uses this to provide domestic space heating and hot water. Heat pump technology has been used around the world for decades and Mitsubish Electric have developed this technology for domestic applications to produce Ecodan - one of the most advanced, efficient heating systems available today.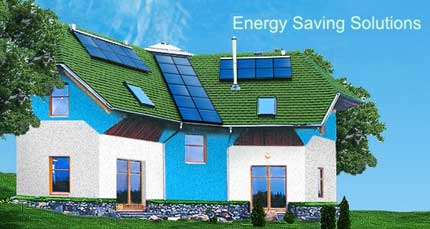 Energy Efficient.ie Serves The Following Areas
Find Energy Efficient.ie in