Time and date
CONSTRUCTION DIRECTORY
Trade Mouldings Limited

Contact Details
Address
Cookstown Business Park
Sandholes Road
Cookstown
County Tyrone
BT809AR
Northern Ireland
About Trade Mouldings Limited
Welcome to the Trade Mouldings Group.
Trade Mouldings are one of the UK's largest manufacturers and distributors of MDF wrapped mouldings and vinyl wrapped cabinet doors.
Our family run company has 25 years manufacturing experience in the furniture industry. The factory, which is modern and purpose built is based on an 8 acre site in Cookstown, Northern Ireland. It has the very latest production machinery and we are constantly investing in new technology.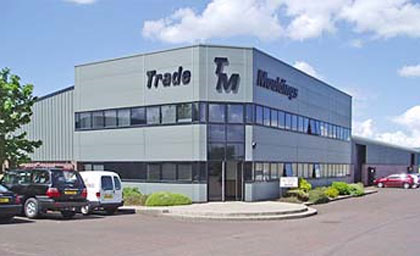 Trade Mouldings Limited manufacture mostly but not exclusively for the cabinet furniture market and can produce by arrangement to customers specific requirements. To service the market with the high levels now demanded, the company formed Trade Mouldings Distribution Ltd which consists of three distribution centres in Cookstown, Dublin and Greater Manchester.
These centres provide a service at all levels of trade customers with rapid ex-stock lead times on vinyl doors, MDF wrapped mouldings, matching accessories and associated products.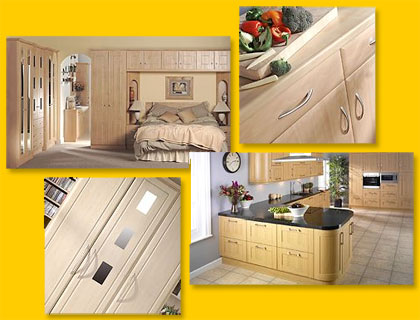 ProductsKitchen Doors
Our selection of doors offers a comprehensive range with designs based on both traditional and contemporary styles. We also have a choice of four glazing styles, each of which are available for any of the vinyl door range.
Kitchen Doors Made to Order
All membrane pressed door designs are available, made to order in any size, with any colour available in any design (except with some limitations with gloss).

Mouldings
Trade Mouldings are one of the largest manufacturers of wrapped MDF mouldings in the UK. Our experience in producing MDF mouldings goes back 25 years when we were part of the revolution in the furniture industry that began to seriously address the need for sustainable natural resources like MDF.
Since then we have gone on to produce high volumes of wrapped MDF mouldings in a variety of shapes and finishes for many different applications.

Mouldings for the furniture industry including;


Cornice Mouldings
Light Pelmet
Door Frames
Worktop Edging
Pilasters

Mouldings for the construction industry including;

Customers Mouldings


In-house Tooling
Special shapes undertaken
Choices of wrapping material

Wrapping Material


Extensive selection of PVC foils
Large variety of paper foils
Wide range of Veneers
Availability
Many of our products for the furniture industry are available ex-stock from our own distribution centres. Volume orders and special available from factory. Bulk packed or individually bagged. Standard lengths or can be cut to size.
Reviews & Testimonials for Trade Mouldings Limited
March 01, 2018
Further to the below, Andrea the Sales Office Manager rang me and has now closed the account with no resolve because I am dissatisfied about the way my complaint has been dealt with - very unprofessional, she did however admit shed had communication from EMUCA which she didnt pass on. My advice stay clear of this company if you want 100% company satisfaction.
I bought some internal racking for my kitchen in Feb 2016 and it has come off its runner and broke. I reported this back in early January and was informed their supplier said It must have been put on wrong I explained my husband is a builder and done many kitchen refits and it was put on correctly, plus why had it worked for two years!!! I sent photos and said I had no problem with someone calling to the house to inspect the kitchen or indeed return it to the shop, however still nothing. my last email from them was Hi, I am on lunch at the moment, I have just emailed EMUCA chasing them on it. Will call you when I have a response. Thanks Andrea on 23.02 @12:45.

My reply was Thanks, however is there a contingency plan if they dont really to your email? This has been going on since late January and my kitchen has a cupboard missing because of this, which Im sure you can guess is unsightly and also very annoying after such a long period of waiting. We have no issue with someone coming and inspecting the unit from either your company or the suppliers. Regards Gayle Buckley 23.02 @13:41
I am still waiting for a reply. One very annoyed customer!!

Trade Mouldings Limited.

1

out of

5

based on

1

ratings.
Trade Mouldings Limited Serves The Following Areas
Find Trade Mouldings Limited in
Trade Mouldings Limited Branches
Trade Mouldings Limited
Unit 6, Blueberry Business Park, Kingsway, Rochdale, OL16 5DB
Click to view telephone number