Time and date
CONSTRUCTION DIRECTORY
Miragreen Ltd

Contact Details
Address
Ballinasloe Enterprise Centre
Ballinasloe
County Galway
Ireland
About Miragreen Ltd
Mirage gum removal machines….Not seeing is believing!!
The problem of discarded chewing gum is becoming an ever increasing problem, not only because of the unsightly mess on the streets but because of the increasing amounts of money and time being spent removing this nuisance.
The Miraclean machine from Mirage is now available in Ireland through Miragreen, an Irish owned company based in Galway. In these environmentally conscious times, Miraclean is the most innovative,environmentally sound and cost effective solution to the problem of discarded gum.
It is designed to rapidly remove chewing gum using a combination of high pressure steam and a patented cleaning solution without causing damage to the surface being cleaned.
The Miraclean Machines have 3 main advantages:
Miraclean uses an environmentally safe cleaning solution (This is fruit based and therefore its residue can be rinsed into the waste system).


Miraclean uses only 40 litres of water in an average working day (typically this is a saving of at least 22,000 litres of water during the same working period when using high pressure water cleaning techniques).


The Miraclean is fully portable and only requires an electrical supply, either from the location or from a generator (either diesel or electrical).
Advantages of using Miraclean:
Environmentally Friendly
Kind To Most Surfaces
Very Quiet Operation
No Disruption To Business Or Pedestrians
Fast And Efficient Service.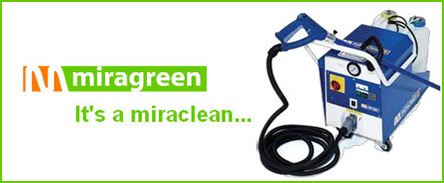 Click here to see it in action!
Miragreen Ltd Serves The Following Areas