Time and date
CONSTRUCTION DIRECTORY
S P E Ireland

Contact Details
Address
Unit 203 City Business Park
Dunmurray
Belfast
County Co Antrim
Northern Ireland
About S P E Ireland
Surface Preparation Equipment
World leaders in development and supply of surface preparation equipment, spares, accessories and services.
The SPE Group of companies encompasses a range of industries specialising in the development, production and distribution of world leading surface preparation equipment products.
From concrete to steel, our products are designed to tackle the most demanding surfaces quickly and efficiently. Autoblast machines, floor grinders, floor planers and scarifiers, multistrippers, mixers and hand tools - whatever your need, we have the products, skills and service to take the complexity out of any surface preparation task with reliability and cost-effectiveness.
Servicing the Surface Preparation Industry throughout Northern Ireland & Eire...
Just as with all companies that are part of the SPE Group of companies, SPE Ireland is supported by the worlds number 1 independent supplier of surface preparation equipment, supplying the full range of SPE equipment manufactured by SPE International in Lincoln, United Kingdom.
Stocks of equipment are held locally providing immediate availability to our customers, backed up by a 24-hour delivery service directly from the factory.
All equipment is designed using the latest technology and manufactured using the highest quality materials. Specifications are continually being improved to meet the needs of the industry with new and updated models being introduced into the market place on a regular basis.
SPE Iteland can provide on site demonstrations of equipment, training and technical back up together with equipment, parts and consumable sales.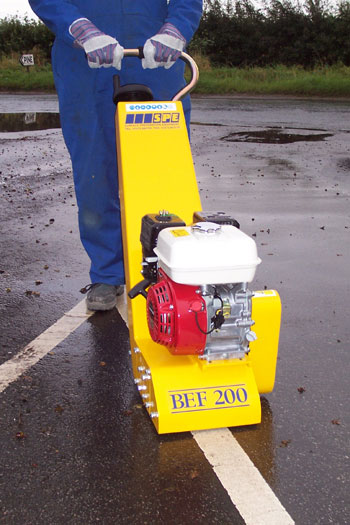 SPE Group of Companies
A world leader in all aspects of surface preparation, the SPE company was founded in 1983 and to this day remains a family-owned business.
Our vision was to develop an organisation that would be a world leader in all aspects of surface preparation. We were the first company to use the terminology Surface Preparation Equipment, this term becoming the foundation of the group.
SPE began with the design and manufacture of the original 20ES Autoblast machine. This equipment was initially used to provide an on site service for the construction, industrial flooring and petrochemical industry. The technique of totally enclosed shot blasting used with this system quickly became the recognised method for preparing concrete and steel surfaces. Over the years the SPE range of equipment has developed into the largest available from a single source worldwide.
The SPE Group operates from a purpose-built facility covering 5 acres in rural Lincolnshire in the centre of the UK, and today enjoy position as one of the market leaders in the Surface Preparation Industry.
The SPE brand is recognised worldwide and the company has gained an enviable reputation for providing the complete surface preparation solution.
S P E Ireland Serves The Following Areas