Time and date
CONSTRUCTION DIRECTORY
Arco Safety Ltd

Contact Details
Address
48/ 49 Western Park Way Business Park
Lower Ballymount Road
Dublin
County 12
HU1 2SH
Ireland
About Arco Safety Ltd
Arco - know how to keep your business safe
We specialise in safety, supplying personal protective equipment, clothing, safety footwear and other products – from ear plugs to smoking shelters and respirators to hard hats. We aim to offer a world-class range of quality assured, branded and own branded products, carefully selected from ethically compliant suppliers. In addition to providing a wide range of safety equipment and workwear, our team of experts are on hand to provide advice and support on the wide range of health and safety issues affecting all businesses today large and small.
Arco - value for money
With over 22,000 competitively priced products we aim to provide you with the best value for all your safety and workwear budget. Our buying power as the largest safety supplier enables us to provide any number of cost effective solutions for today's workplace. See our hard wearing hi-vis jackets for under twelve euros or our special range of safety shoes for under thirty euros! You will find a unique combination of practical advice and value for money products in our 'Big Book' catalogue produced specifically for Ireland containing 924 pages of products to keep your workforce safe and looking good. All of the products in this catalogue are governed by EU and Irish Health and Safety Legislation and are priced in Euros.
Arco - expert advice
Our ability to work hand in hand with our customers, government agencies and safety professionals has given the Arco team a depth of product knowledge, industrial practice and working experience in industries such as pharmaceutical, chemical, food processing, construction, manufacturing, engineering and distribution. This know how is highly valued by our customers, many of who, rely on Arco for answers on a broad spectrum of Health and Safety issues. Give one of the team a call today and they can advise you on keeping your employees safe and adhering to complicated legislation and law. Reach one of the Arco team on 01 409 5000.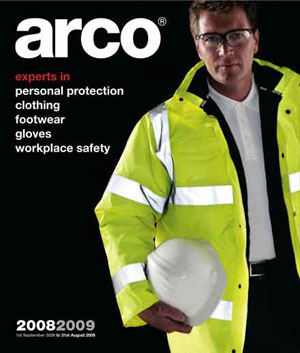 Arco - the website
Our website has been hailed the best in industry. We're constantly making improvements, so it's easy to use and provides real benefits to you and your business. Investment in a world class IT system means that customers can do all the usual things; Buy online, check stock, create re order lists and send queries but the Arco website goes a lot further. For example, account holders can create a secure account for multiple users with tiers of control and spend. Go online at
www.arco.co.uk
to see what we can do for you.
We are here when you need us...
Visit:
www.arcosafety.ie
Email:
arco.dublin@arcosafety.ie
Phone: 01409 5000
Fax: 01409 5001
Arco Safety Ltd Serves The Following Areas