Time and date
CONSTRUCTION DIRECTORY
Heat Recovery Ventilation NI

Contact Details
Address
63 Carncullagh Road
Ballymoney
County Co Antrim
BT53 8DE
Northern Ireland
About Heat Recovery Ventilation NI
What is Heat Recovery Ventilation?Breathe Easy
There is increasing demand to make homes more energy efficient to reduce both heating costs and carbon emissions. Better insulation, double glazing and draught proofing effectively prevent air escaping from the building. This means that water vapour created in everyday activities such as washing and cooking cannot escape, which causes a build-up of condensation.
This can lead to mould growth which damages the internal decoration and attacks the fabric of the building itself. High relative humidity allows mould and the house dust mite to thrive, which are contributory causes of asthma and other bronchial conditions.
Not only does lack of ventilation cause unpleasant smells from pets, cooking or tobacco smoke to linger, but it can cause the build-up of potentially toxic gases from burning fuel and synthetic materials in furniture and carpets, paints or cleaning products.
A controlled ventilation system is the answer. But what sort of ventilation? Heat Recovery Ventilation (HRV) is a controlled ventilation system that is effective and economical to run. It extracts the moist, stale air from the building and replaces it with clean filtered fresh air, without letting the heat escape. HRV recovers the heat from the outgoing warm air and transfers it to the incoming fresh air. This means that the energy that would otherwise be lost is used to heat the incoming air, helping to maintain a comfortable temperature.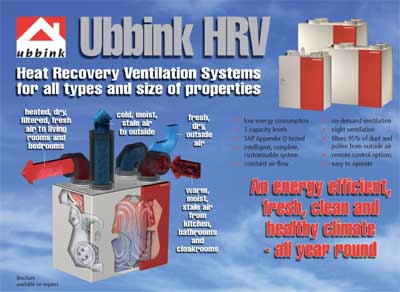 How does it work?
Ubbink HRV systems recover up to 95% of heat from the extracted stale air by using a counter flow heat exchanger. The outgoing and incoming air pass next to each other but do not mix. The incoming air is filtered to reduce the incidence of pollen and dust while the outgoing air is filtered to protect the heat exchanger and internal components.
Heat Recovery Systems provide
Provide a clean draught-free environment


Improve indoor air quality


Provide controllable ventilation


Supply energy positive ventilation for maximum efficiency


Operate quietly


Recover up to 95% of heat from extracted air to warm fresh incoming air


Are environmentally friendly and are a recommended option in Building Regulations Part L 2006


Comply with Building Regulations Part F 2006 for domestic dwellings
An energy efficient, fresh, clean and healthy climate - all year round
Ubbink Heat Recovery Ventilation (HRV) systems provide constant, controlled ventilation to homes without creating cold draughts or increasing the heat loss normally caused by ventilation. By using a Ubbink HRV system the calculated heat loss is actually reduced, making homes much more energy efficient.
Stale air - polluted with smells, CO2 and humidity will be constantly extracted via ducted air valves in the kitchen, utility, bathrooms and cloakrooms and passed through a counter current heat exchanger before being evacuated to
the outside as cold air.
Fresh air - ducted from outside via a G6 pollen filter, is warmed by the high efficiency heat exchanger and then delivered through air valves into living rooms and bedrooms.
All appliances are tested and listed to SAP Appendix Q.
HRV HEAT RECOVERY DUCT SYSTEM
The insulated, HRV heat recovery synthetic duct system is available in Ø125mm,
Ø150mm and Ø180 mm in lengths up to 2.25m and also includes long socket sleeves and compact bends in angles of 15°, 30°, 45° and 90°.
The availability of long sections and compact bends makes the HRV heat
recovery duct system neat and tidy, very quick and easy to assemble, reduces
wastage and makes the system perfect for use in complicated design installations.
In addition, the ducts are easy to inspect and clean through a special inspection sleeve that can also be used as fixation bracket and the supplied cutting template ensures that the ducts can always be cut
simply and correctly.
The HRV heat recovery pipe is used for ducting air to and from the atmosphere
and elsewhere in an unheated loft.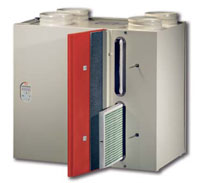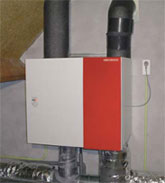 Heat Recovery Ventilation NI Serves The Following Areas