Time and date
CONSTRUCTION DIRECTORY
Geostar Engineering

Contact Details
Address
unit f
odl house, doughcloyne ind est
Sarsfield Road
County Cork
Ireland
About Geostar Engineering
Geostar Engineering
Located in Cork, Ireland. Geostar Engineering are an Irish manufacturer of geothermal / ground source heat pump systems and controls for the domestic and commercial geothermal heating sector. The directors of the company have in excess of 25 years combined experience in the Irish heat pump market. We have been manufacturing our geothermal heat pump range since 2002 and have supplied in excess of 500 heat pumps to heat Irish homes and business to date. Our heat pump units are designed and built to the highest standards. Our range of heat pumps has been tested for performance verification and operation by an independent accredited test laboratory for heat pump testing in Austria. We can offer you quality geothermal heat pumps with excellent technical support and after sales service.
Our heat pumps feature the highest quality components packaged in durable painted steel enclosures with models suitable for both indoor and outdoor locations. We can also offer you all accessories and controls associated with a typical heat pump installation.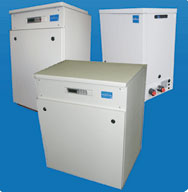 Geothermal Heat Pump:
A geothermal heat pump, also known as a ground source heat pump (GSHP), is a unit that uses the Earth as a heat source. Heat pumps move heat from a source to a sink. With GSHP's the source is the ground outside and the sink is the heating system within the house. They use the same basic system as a refrigerator, which transfers heat from the inside of the refrigerator (source) to the outside (sink).
Heat pumps are characterised by two loops, the source or external loop and the sink or internal loop. The heat pump collects the heat stored in the Earth (source) via the external loop and delivers it to the inside loop (sink) for use in the heating system. The Earth below the frost line remains at a relatively constant temperature year round. This temperature equates roughly to the locations average annual temperature, so is usually 7°C to 9°C. Because this temperature remains constant GSHP's perform with greater efficiency and in a far larger range of extreme temperatures than other types of heat pumps.
Geostar Engineering Serves The Following Areas