Time and date
CONSTRUCTION DIRECTORY
DPM Environmental Co Ltd

Contact Details
Address
Unit 3 Westpoint Trade Centre
Link Road
Ballincollig
County Cork
Ireland
About DPM Environmental Co Ltd
DPM Environmental are specialists in radon barriers, methane barriers, waterproofing and storm water attenuation tanks. We supply and fit the following to the construction/building sector nationwide:
Radon and Methane barriers


Post and Pre-applied waterproofing membranes


Storm/surface water management systems including supply of ancillary items such as petrol interceptors and flow control units


Retention ponds


Infiltration/soakaway systems


Concrete leak repair of basement walls and lift shafts


Basement damproofing and conversion
We have worked with some of the country's leading developers and construction firms. The expertise we bring with us has resulted in a very solid client base that is confident not only in our ability to deliver on time but in our commitment to delivering value and viable cost saving ideas.
Though based in Cork, we have worked all over the country on many different projects. We offer consultancy and advice on any project in which we are involved as standard and will liaise with engineers and architects alike to overcome difficult details and move projects forward.
Every project we do gets our full attention until completed to the high standard that is quick becoming synonymous with our name.
Radon
Dura-Skrim, Visqueen and Monarflex radon barriers are three membranes we carry as standard, however if you have a different product in mind - don't fret, we are highly experienced in the handling and fitting of all types of specialist construction membranes from LLDPE to HDPE including PVC's and the like. Our method of ''in-situ'' membrane placement is unique in that we actively review every project before commencement to ensure that jointing is minimized which not only improves membrane performance (less joints means less potential areas of failure under imposed loads) but also greatly reduces fitting times which aids critical path.
WaterproofingBituthene 4000
post-applied tanking for RC walls, the picture on the left shows Bituthene 8000 applied to an RC wall (note protection boards are not present).
Preprufe membranes
- pre-applied tanking for subfloors.
Betec Flex
- specialist retro repair mortar for RC and old stone wall construction where damp/water ingress is a problem and where some degree of structural movement and/or cracking is likely.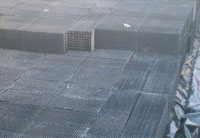 STORMWATER ATTENUATION & SURFACE WATER MANAGEMENT
The Environment Agency is keen to promote the wider use of sustainable drainage systems, which reduce the impact of surface-water run-off. There are two main ways of storing surface water for stormwater management:
Stormwater attenuation tanks


Soakaway infiltration systems
DPM Environmental Co Ltd Serves The Following Areas
Find DPM Environmental Co Ltd in