Time and date
CONSTRUCTION DIRECTORY
JOSEPH A. CLANCY LIMITED LIGHTNING PROTECTION

Contact Details
Address
Unit 10 Block One Burnell Square
Mayne River Way
Northern Cross
County Dublin 17
Ireland
About JOSEPH A. CLANCY LIMITED LIGHTNING PROTECTION
LIGHTNING PROTECTION - NEW EUROPEAN/IRISH STANDARDS – I.S. EN 62305:2006 PARTS 1 TO 4 FOUR PARTS NOW NECESSARY TO PROVIDE 100% COMPLIANT ANS CERTIFIABLE PROTECTIONJoseph A. Clancy Limited t/a J.A.C.
, as design specialists, have been designing, installing, testing and certifying lightning protection (internal & external) systems for almost 35 years and maintain a full training schedule for our electrically qualified L.P. installers.

 We were pleased to endorse and embrace the introduction of this new standard and the opportunity of providing safer and fully compliant I.S. EN-BS EN 62305 lightning protection systems for our customers.
 Our continued association with Furse UK products, going back to 1974, is testament to our insistence on the utmost quality and performance of our designs and installations.
The main purpose of a lightning protection system is to protect against Risk of Loss of Human life (Risk "R1") and Risk of Loss of Services ('R2').
 Inadequate or incomplete installations are indefensible and must now incorporate both internal and external lightning protection, tailored precisely to your needs.
 There are now two equally important aspects of your lightning protection requirements, each of which is dependent on the other and both of which together provide your lightning protection. 
These are the familiar structural (external) protection and the not so familiar, Service Entry lightning current (internal) protection.
 Unless you have catered for both of these aspects of lightning protection risks, you will not have a compliant or safe protection system and, more importantly, you are putting the inhabitants of your structure at serious and avoidable risk.

 Lightning protection installers who claim that the internal protection is the responsibility of others, are normally unqualified to install internal protection or do not employ electrically qualified installers required for the installation.
50% OF THE LIGHTNING PROTECTION RELATES TO THE BUILDING STRUCTURE AND 50% RELATES TO YOUR CONDUCTIVE SERVICES WHICH ENTER OR LEAVE THE STRUCTURE (SPD REQUIREMENTS) THEREFORE SURGE PROTECTION, TO MATCH THE PREPARED LIGHTNING RISK ASSESSMENT IS NOW AN ESSENTIAL AND REQUIRED PART OF YOUR LIGHTNING PROTECTION SYSTEM.
SURGE PROTECTION DEVICE (SPD) FOR ZONAL LIGHTNING PROTECTION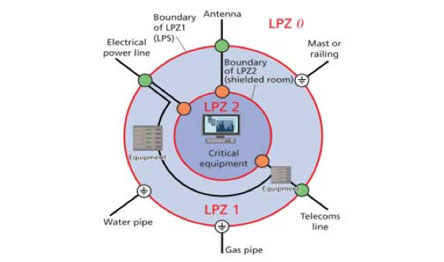 Our provided services are at your disposal, from a full turnkey solution to selected single components of Risk Assessment, Design, Supply, Installation, Testing and Certification of Lightning Protection, Earthing, Lightning Current and Coordinated Surge Protection. 

We are fully trained and experienced in all aspects of this specialist field including the general building Construction Trade, Regional Distribution Centres, Chemical, Pharmaceutical, Petro Chemical, Computer Centres, Railway, University Campus, Airports, Green Energy systems, etc.
CCTV LIGHTNING SURGE PROTECTION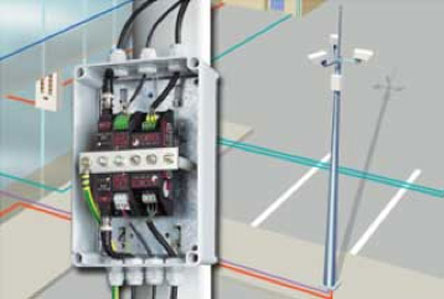 We continue to provide a free advisory service and technical presentations, in relation to all aspects of the latest CENELEC suite of I.S. EN 62305 - BS EN 62305 lightning protection standards.

Our aim as experienced and respected lightning protection specialists is to encourage absolute standards compliance, with consequential reduced liability and a safer environment for our customers.


Your phone call to Joseph A. Clancy Ltd could be the start of a job well done, or, at the very least, free and factual technical support.
Reviews & Testimonials for JOSEPH A. CLANCY LIMITED LIGHTNING PROTECTION

June 15, 2021
Very honest and professional company to deal with. I would highly recommend JAC for any lightning protection and surge protection needs. Provided a solution to every question I had very efficiently. Thanks guys
JOSEPH A. CLANCY LIMITED LIGHTNING PROTECTION.

5

out of

5

based on

1

ratings.
Products & Services
lightening protection engineers ireland
lightening protection engineers
Twitter Feed

Facebook Feed
JOSEPH A. CLANCY LIMITED LIGHTNING PROTECTION Serves The Following Areas
Find JOSEPH A. CLANCY LIMITED LIGHTNING PROTECTION in
JOSEPH A. CLANCY LIMITED LIGHTNING PROTECTION General Description
SPECIALIST – BS & I.S. EN 62305:2012 LIGHTNING RISK ASSESSMENT – DESIGNS – CONDUCTOR INSTALLATIONS – CERTIFICATION – FURSE APPOINTED IRISH DISTRIBUTOR - L.P. SURGE SPD – EARTHING