Time and date
CONSTRUCTION DIRECTORY
Address
Silverwood Ind Area
Silverwood Road
Craigavon
County County Armagh
BT66 6LN
About Met-Seam
Met-Seam Ltd supply Zambelli Rainwater products, Stubai Professional Roofing Tools, Zinc, Copper, Aluminium, Steel sheet & coil to Ireland and the UK. Met-Seam Ltd stock all the major metal brands, Zintek, Rheinzink, VM Zinc, KME, Luvata & Novelis Falzonal.
MS460 Standing Seam roofing system - Met-Seam Ltd are the sole manufacturers of MS460 interlocking Standing Seam System. MS460 is a highly engineered low profile standing seam panel. MS460 combines the quality of traditional materials with state of the art design, the urbane standing seam panels are prefabricated off site and simply interlock together. The most significant benefit of MS460 is the speed of installation; large areas of the main roof will be water tight within hours of arriving on site. The system retains an elegant appearance and the feel of traditional standing seam. The lightweight characteristics of the material add minimum stress to structures and provide easy on site handling. MS460 can be supplied with flashings, trims and accessories. MS460 is available in Zinc, Copper and a wide range of colours in Aluminium or coated Steel for more information please phone or email us at more@metseam.com.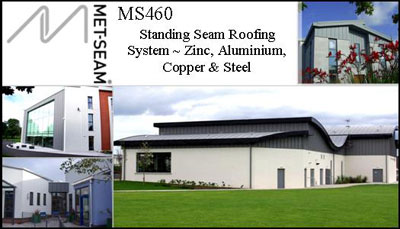 Zambelli - Zambelli Rainwater systems complement all metal roofing systems with a choice of Copper, Quartz Zinc and Galvanized finishes.
Stubai Professional Roofing Tools - Stubai are certified to ISO 9001. Stubai produce a range of metal working tools, most of which are stocked by Met-Seam Ltd for overnight delivery.
The Met-Seam website shows the full range, so please browse through the product catalogue and contact us for prices and delivery.
Product information - Contact us for brochures with in-depth product information, gallery of completed projects and CDs illustrating the wide-ranging applications and technical details for all our metal roofing products. Met-Seam Ltd gallery includes projects completed in Zinc, Copper, Aluminium & Steel, using branded metals specially manufactured for metal roofing; Zintek, Rheinzink, VM Zinc, KME, Luvata & Novelis Falzonal.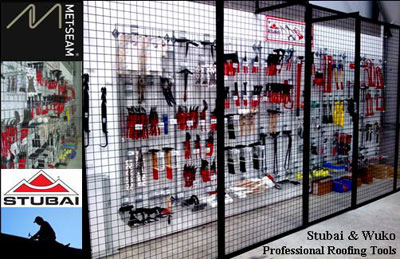 Technical back-up - Met-Seam Ltd's technical team, have a wealth of experience in the metal roofing industry. Met-Seam Ltd offers a support service from the initial stages of project development through to completion. Met-Seam exhibits MS460 Standing Seam Roofing System throughout Europe to launch new products into the market and show our existing range.
CPD's for your practice - CPD's are offered regularly to keep architects up-to-date with the latest developments in the world market. This continuing professional development and training has been instrumental in keeping up with changing legalization and green technology. If you would like more information or would like us to organize a seminar at your practice, please contact us at more@metseam.com
Fabrication for Specification
Met-Seam Ltd have the state of the art machinery; Profiling machines, Seam folding machines, edging machines, forming, bending machines, metal de-coiler System, Guillotines, Metal Shears, Radial Arm Saw. Products are Stretch wrapped to keep your Zinc, Copper, Aluminium, Steel & roofing tools on dispatch.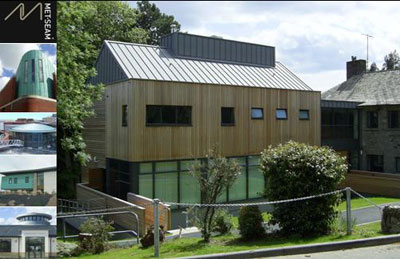 Met-Seam Serves The Following Areas