Time and date
CONSTRUCTION DIRECTORY
Panda Engineering (Northern) Ltd

Contact Details
Address
Unit B8
Mercia Way
Scunthorpe
County North Lincolnshire
DN15 8RE
England UK
About Panda Engineering (Northern) Ltd
We specialise in the supply of Welding, Studwelding, Fabrication and Maintenance services both "on site" and "in house".
With our dedicated team of professionals, our contracts have included both welding and studwelding on a range of facilities including power stations, petro-chem facilities, incinerator plants, shear anchors for piling, shipbuilding, factories and hospitals.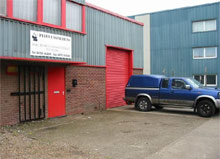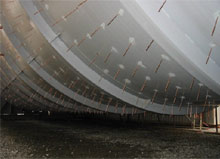 We've also been been contracted to carry our welding, studwelding, fabrication and maintainance services on a great many projects in various diverse industries such as shipping, aerospace, road/rail transportation, multi-storey buildings, dock work and much more. In fact if you can think of it we've welded it.
Situated less than five minutes away from the M180 and within 15 minutes of the M1, A1, M18 and M62 we could hardly be in a better place! For the finest in Welding, Studwelding, Fabrication and Maintainance look no further than Panda Engineering Northern Ltd.
Our Services
Services offered are either "in house" or "on site" depending upon the individual requirements of each job. These include welding by MMA / MIG etc., general engineering inclusive of repair and maintenance or fabrication as required. These services are now growing rapidly with the acquisition of our new workshop which had previously existed mainly to service our "on site" site of the business.
We also specialise in the supply of studwelding services again with both "on site" and "in house" facilities being available in capacitor discharge (C/D), drawn arc (D/A) and short cycle (S/C) formats. This now represents over 60% of our turnover. We also supply pins, studs, sheer anchors etc, ferrules and much more.
We have carried out many contracts on a wide and diverse variety of applications including studwelding on power stations, petro-chem facilities, incinerator plants, shear anchors for piling, shipbuilding, factories and hospitals to the more precise requirements of aerospace, rail transportation even to the fixing of studs for hanging curtain wall windows on high quality office/domestic multi-storey buildings to mention but a few.
The supply of speedfix washers, hank bush plates, etc. and associated requisites are all readily available either from our extensive stores or on short time supply.
Another service we are proud to give is equipment hire for both welding and studwelding. Unfortunatley due to the fluctuating prices of the market we do not publish a pricelist, we simply ask you to contact us for the latest prices.
Studwelding
Drawn Arc or DA
Capacitor Discharge or CD
Short Cycle or SC
We can supply and fix studs, pins, bushes etc. from 2mm right through to 22mm diameter and a variety of flat bar and other shapes as well - it's really quite amazing what can be studwelded.
Fabrication & Welding
We can offer a wide variety of fabrication/welding and machining skills and are proud to have carried out works in a wide spectrum of the market ranging from the repair of large fork trucks, and earth moving equipment often with snatch values in excess of 180 tonnes through to the manufacture of portal framed buildings and everything else down to the smaller end such as access platforms and gates (decorative or otherwise), we have even assisted in the building of an overdrive unit for a classic Alvis motor car!
Health & Safety
Panda Engineering (Northern) Limited has its own in house Health and safety department dealing with all the companies H & S isues, this is headed by David Hodson our MD who is Nebosh certified and has attended countless other H & S courses.
Contact us by calling 08702 643008 or 07774924906.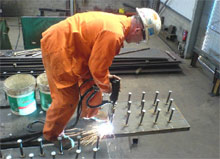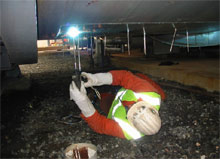 Panda Engineering (Northern) Ltd Serves The Following Areas