Time and date
CONSTRUCTION DIRECTORY
Green Air Technologies

Contact Details
About Green Air Technologies
Green Air Technologies Ltd was established in 2008 when Green Air Heating and Fintan Kearns joined forces to create a single entity renewable energy company.
With a combined professional experience of over 60 years in construction, engineering and the renewable energy sector Green Air Technologies Ltd are a well recognised business with operating offices in Ireland and the UK.
Green Air Technologies offers a wide range of services in the many disciplines whilst specialising in the following sectors Insulation, Heat Pumps and low energy construction.
Having maintained an excellent track record in costumer loyalty, post sales service, safety, quality and innovation; Green Air Technologies continues to deliver technical expertise and tailored renewable solutions for domestic and commercial premises and greener enterprises.
Whilst renewable energy is an emerging market worldwide, Green Air Technologies remains at the forefront with leading technologies, excellence in design and construction, offering customers reliable solutions that are sustainable and cost effective.
Products
Heat Pump Installation
Heat Pump - Retro Fit
Power Predictor
Wind Turbines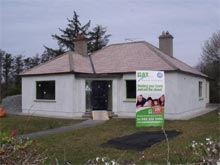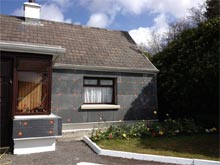 Construction Services
Green Air Technologies have recently completed the build of a Low Energy House in Sligo. Current building regulations demand increased energy efficiency and a renewable energy system. With this in mind, a bespoke design satisfying both the clients concepts and the regulations was developed. The result, a low energy house delivering thermal comfort, healthy living, lower heating costs and a high degree of owner satisfaction.
External Insulation
External wall insulation is a composite cladding system. It involves fixing an insulating material to the surface of the external walls of your home. This is then covered with a protective mesh and a weather-tight render which is durable and highly impact resistance. The system comes in a range of contemporary and traditional finishes with a choice of textures, colours and finished effects which improves the look of your home!
Wind Turbine Installation
The NTP Linear Pitch wind turbine has blade pitch control that automatically adjusts to the wind speed. If the wind rises above the peak operating speed of 27 MPH the blades will change angle, causing the blade speed to slow or stay within RPM limits. The Linear Pitch system will operate in winds higher than most other conventional turbines in its class.
Heat Pump Installation
A heat pump contains refrigerant, which is colder that the outside air (boiling point -48.5 C). Air is drawn into a heat exchanger where the refrigerant absorbs the latent heat from the outside air and evaporates.
The vaporised refrigerant is then compressed increasing its pressure and temperature, (effectively concentrating the heat).
Power Predictor
he Power Predictor tells you how much money you could save by installing the major wind turbines or solar panels on the market before you buy, avoiding expensive mistakes.
"I am absolutely delighted with the results, it's like a new home, I would recommend Green Air Technologies to anyone. It's the the best job we ever did on our house"
Martin Elsasser, Dun Laoghaire
"Well priced and made such a huge difference that it's hard to believe it's the same house! Green Air delivered on everything that was promised"
Jean Paul Perroton, Connemara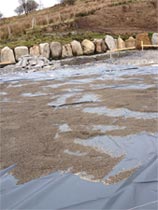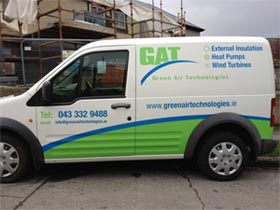 Green Air Technologies Serves The Following Areas