Time and date
CONSTRUCTION DIRECTORY
Mervyn Crean Building & Joinery Ltd

Contact Details
Address
8 Mullaghinch Road
Aghadowey
Coleraine
County Co Londonderry
BT51 4AP
Northern Ireland
About Mervyn Crean Building & Joinery Ltd
Local Builder Mervyn Crean is a local builder who has many years experience in the building trade.
He along with his team are responsible for a wide range of buildings and projects from property maintenance, agricultural buildings to commercial work. He is also available for 24 hour call out in the event of an emergency such as fire.
Mervyns son is also available as an electrican and can do wiring work of any size to any building you may require, as well as this all equipment and machinery are fully tested and comply with all health and saftey laws. Some of the machines are available with operator for surveys and inspections.



Commercial Projects
We have been responsible for many different types of commercial work for a wide variety of clients. You will see an example of a coldstore to the right which was erected and built from start to finish by Meryvn and his workforce.
Any building of this manner can be custom built to your needs and specification and to a high standard.
We specialise in warehouse buildings an example of which is shown in the image to the your left which was constructed for Aghadowey Food Services, this was a project which saw the erection of a 15,000 square foot purpose built store.
Both projects were entrusted to us from the early design stages with structural engineering drawings, right through to the final planning process.
Agricultural Buildings
As well as providing services to commercial business we also offer farm buildings. These can be built for any purpose including organic.
These buildings can also be offered for grant or non grant purposes. Typical agricultural building once an open silo now converted to a new roof with side sheeting on.
All the equipment and machinery used in the building of all our buildings complies with all health and safety laws.
The picture shown to the left is machinery used in the erection process and has a 48 foot man lift.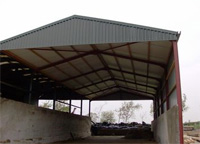 Mervyn Crean Building & Joinery Ltd Serves The Following Areas
Find Mervyn Crean Building & Joinery Ltd in