Time and date
CONSTRUCTION DIRECTORY
Irish Mechanics

Contact Details
About Irish Mechanics
At Irish Mechanics we are expert mechanics who will call to your door, office or even the side of the road!
We are Dublin's own genuine mobile MECHANIC, offering excellent rates and expertise that is second to none.
Mechanic services at affordable prices.


We call to your door, saving you time and any inconvenience. We primarily operate in DUBLIN but will service surrounding counties.


We have several diagnostics suites and scanners to help us accurately diagnose faults.


We can usually quote same day on repairs saving on towing charges and dealer prices.


We only ever use quality parts and offer excellent value for money.


Once you've tried us you will be so happy that you will never aproach a dealer or other MECHANIC again!


There are over 30 points on a vehicle that we inspect and document with every service


We also offer a TOWING AND RECOVERY service in Dublin


Once you've tried us were confident we will become your new 'mechanic' that you can call 24/7 for repairs or advice - no more customer reference numbers - We're strictly on a first name basis!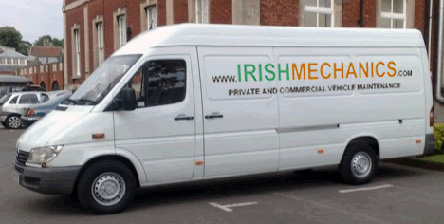 Call Out
A MECHANIC will call out to you at home or work
We carry out detailed inspections of your vehicle
We explain in plain english exactly what the problem is
We can give you an estimate there and then - Remember we work on a per job basis, saving you money on labour charges normally charged by other MECHANICS
Consider the cost, most dealers & garages will charge upwards of 90 euro just to look at your vehicle and that's after you've organised getting it to them. We save you all the trouble and inconvenience of that and travel to you - So from the beginning www.irishmechanics.com is saving you money!
Service
This service is carried out at your home or work by our mechanics, no need for time off we call to you!!
Change Oil
Change oil filter, air filter, spark-plugs
Check fluid levels
Check electrical systems/charging circuits
Inspect braking system
Reset service light
In all over 50 items will be inspected on your vehicle by our mechanic
Any defective items will be explained in plain english
We offer repairs on a per job basis saving you money on expensive hourly labour charges at many high priced dealerships and garage MECHANIC
Stamp service book
Our expertise is second to none and our mechanics have an extensive knowledge of today's modern vehicles and their individual systems(electrical & mechanical)- We can save you money on main dealers and garage prices at www.irishmechanics.com everything we do is GUARANTEED......FULLY
DUBLIN MOBILE MECHANIC
Irish Mechanics Serves The Following Areas