Time and date
CONSTRUCTION DIRECTORY
Aairex Environmental Ltd

Contact Details
Address
Rossmore Park Industrial Estate
Killyconnigan
County Monaghan
H18 AX90
Ireland
About Aairex Environmental Ltd
Local Exhaust Ventilation (LEV) Testing and Reporting
Employers have a legal responsibility to ensure that the risk to employees from dust/fumes etc. is minimised and well controlled.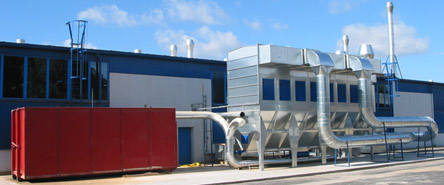 This is usually achieved through the use of LEV systems. The Control of Substances Hazardous to Health (CoSHH) regulations 2002 (UK), state that LEV systems should be thoroughly examined and tested at least every 14 months.
Aairex Environmental Ltd's LEV examination and testing services are carried out in accordance with the requirements of Regulation 9 of the CoSHH regulations and the HSG 258 guidance notice.
For more information go to
www.lev-testing-uk.co.uk
Our examiners and testers are registered and certified by the British Occupational Hygiene Society (BOHS) in the P601 standard - Commissioning and Thorough Examination and Testing of Local Exhaust Ventilation Systems (Certificate No. 210611/021).
With over 40 years' experience in the Dust Extraction business we are able to provide a thorough testing and reporting service as well as the supply and installation of dust and fume extraction systems to meet any requirement.
We are proud to help our clients out over the long term.
Below are the main industries which we are involved in:
Aerospace Industry
Automotive Spray Shops
Feed Milling Industry
Industries
Laboratory Fume Cupboards
Laser Cutting
Pharmaceutical Manufacturing
Powder Filling Plants & Recycling Plants
Sand Blasting
Schools & Training Centres
Semi-Conductor Manufacturing Process
Vehicle Manufacturing / Repair Shops
Welding Production Shops
Wood Process Manufacturing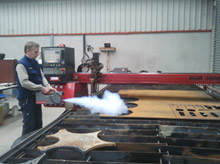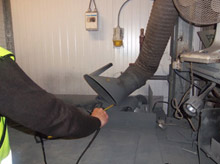 LEV solutions for you
Aairex Environmental Ltd. has over 30 years of experience in the dust and fume extraction industry.
Our engineers are trained to carry out LEV Testing and are certified in the P601 standard by the BOHS. All of our surveys are carried out in accordance with the COSHH guidelines.
A thorough examination and test is a detailed examination to ensure that the LEV can continue to perform as intended by design and will contribute to the adequate control of exposure.
Each LEV system is thoroughly examined using specialised equipment such as airflow instruments. Our engineers then analyse these results and draw up a report based on the findings of the test. The report will include a statement on the performance of the system and will identify any design flaws, defects or maintenance issues that might affect its performance.
We offer a full range of services to suit your LEV requirements:
LEV statutory examination and tests as required under COSHH regulation 9
Comprehensive reports on the performance of LEV systems
Assessment of LEV control measures
Commissioning of new LEV systems
Advisory services for all dust/fume control measures
Design, manufacture and installation of all types of LEV systems
Aairex Environmental looks forward to welcoming all of your enquires so we can discuss a wide range of services we provide.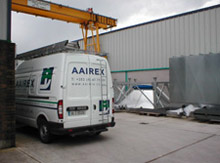 Gallery
Click to close
Products & Services
Stainless Steel
LEV Testing
LEV Testing
Dust Extraction
Welding
Real time monitoring
Sheet Metalwork
Metal Fabrication
Personnel Monitoring
Air Quality Testing
Air Quality Monitoring
Fume Extraction
Local Exhaust Ventilation
Ducting and Duct Fitting
Environmental Engineers
Engineering Consultants
Fire Prevention Services
Sheet Metalwork
Clean Rooms
Aairex Environmental Ltd Serves The Following Areas
Aairex Environmental Ltd General Description
Air Monitoring Systems Air Quality Cad Drawings Dust Extraction Plant Dust Extraction Systems Environmental Engineers Extractor Fans Fire Prevention Products Fire Protection Products Fire Suppression Systems Fume Extraction Systems Metal Fabrication Sheet metalwork