Time and date
CONSTRUCTION DIRECTORY
Alternative Heating and Cooling Ltd

Contact Details
Address
Unit 3 IDA Industrial Estate
Baltimore Road
Skibbereen
County Cork
Cork
Cork Ireland
About Alternative Heating and Cooling Ltd
With Water Furnace Heating and Cooling EquipmentJust a few feet from you is one of the world's most environmentally friendly and efficient energy sources.
In this time of rising energy costs and heightened environmental responsibility, geothermal energy is receiving greater public, commercial, and governmental acceptance than ever before.

Why Geothermal?
Earth energy heat pumping could become a crucial component of a cost-effective national strategy for reducing C02 and other polluting emissions associated with burning fossil fuels. Where cheap natural gas is not available, earth energy technology can confer enormous environmental benefits and be very cost-effective.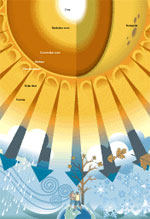 Geothermal Systems Offer You Numerous Benefits
Economical - provides operating cost savings of 30 percent to 60 percent


Earth Friendly - uses the renewable thermal energy of the earth


Comfortable - maintains an even temperature and humidity level throughout your home


Safe - no open flames, no fumes, no soot


Flexible - one single unit handles heating, cooling, and water heating


Dependable - contains few moving parts and no outdoor equipment, requiring little or no maintenance


Value - increases the value of your home along with decreasing your heating and cooling bill; generally produces higher cash flow


Efficiency - as much as four times as efficient as conventional systems


Investing in a heat pump is good for you & our environment.
Alternative Heating and Cooling Ltd Serves The Following Areas
Find Alternative Heating and Cooling Ltd in