Time and date
CONSTRUCTION DIRECTORY
Terrain Aeration Services

Contact Details
Address
Broadlands, Borough Lane
Stowmarket
County Suffolk
IP14 3AS
England UK
About Terrain Aeration Services
We are a company specialising specifically in the de-compaction of soil and root zones of trees and turf whether that be private residential gardens or professional sports surfaces, such as golf courses, football pitches or bowling greens, etc.
Product Range
The Airforce Fleet
Airforce Terralift
Scamper Terralift
Remote Terralift
Tracker Terralift
Soil Coring
Soil Excavation
Oil Contamination in Soil
Polymer Injection
Deep Drill Service
Terrain Aeration launches Housebuilder's Division
Over many years, major house building companies have called on Terrain Aeration to decompact back gardens and community areas of new-build developments. During building, the unavoidable combination of diggers, dumper trucks, bulldozers, concrete mixer lorries and parked vehicles take their toll on the soil, flattening the air out of it. Eventually, the areas that become the gardens and shared grass areas, which may already have a sub-soil layer of rubble, old bricks and general landfill waste, becomes overly compacted. The result is waterlogging and panning requiring very deep aeration to cure the problem.
Terrain Aeration has provided the solution to this for some of the UK's biggest builders, including Barratt, Taylor-Wimpey and Persimmon. The Terrain business has grown in the sector to the extent they have formed their Housebuilder's Division, with three new staff to form the specialist team that will concentrate on the house builders' needs. Terrain Aeration's Managing Director, David Green, has built different types of machine to enable access to the gardens through single gates and garages. He says:
"Our Terralift machine has proven itself over the last 30 years in aerating and decompacting soils. It is the ideal way of getting oxygen back into the soil structure, non-invasive and no mess. This does not replace the: "no need for drains issue" but it is cost effective and works. Putting in new drains will still leave you with compaction panning in-between the drains, so using Terrain Aeration in the first place is a step in the right direction. Once a garden has been aerated using Terrain Aeration's machinery, nature will be able to help with the rejuvenation of the soil structure - so this treatment would not be required again."
Terrain Aeration works nationwide and their teams are available to carry out deep aeration relief for waterlogging and flooding for house builders, sports grounds, amenity areas, golf courses and public spaces.
Enquiries from house builders are welcomed via email address: terrainaeration@gmail.com and by calling Terrain Aeration 01449 673783
www.terrainaeration.co.uk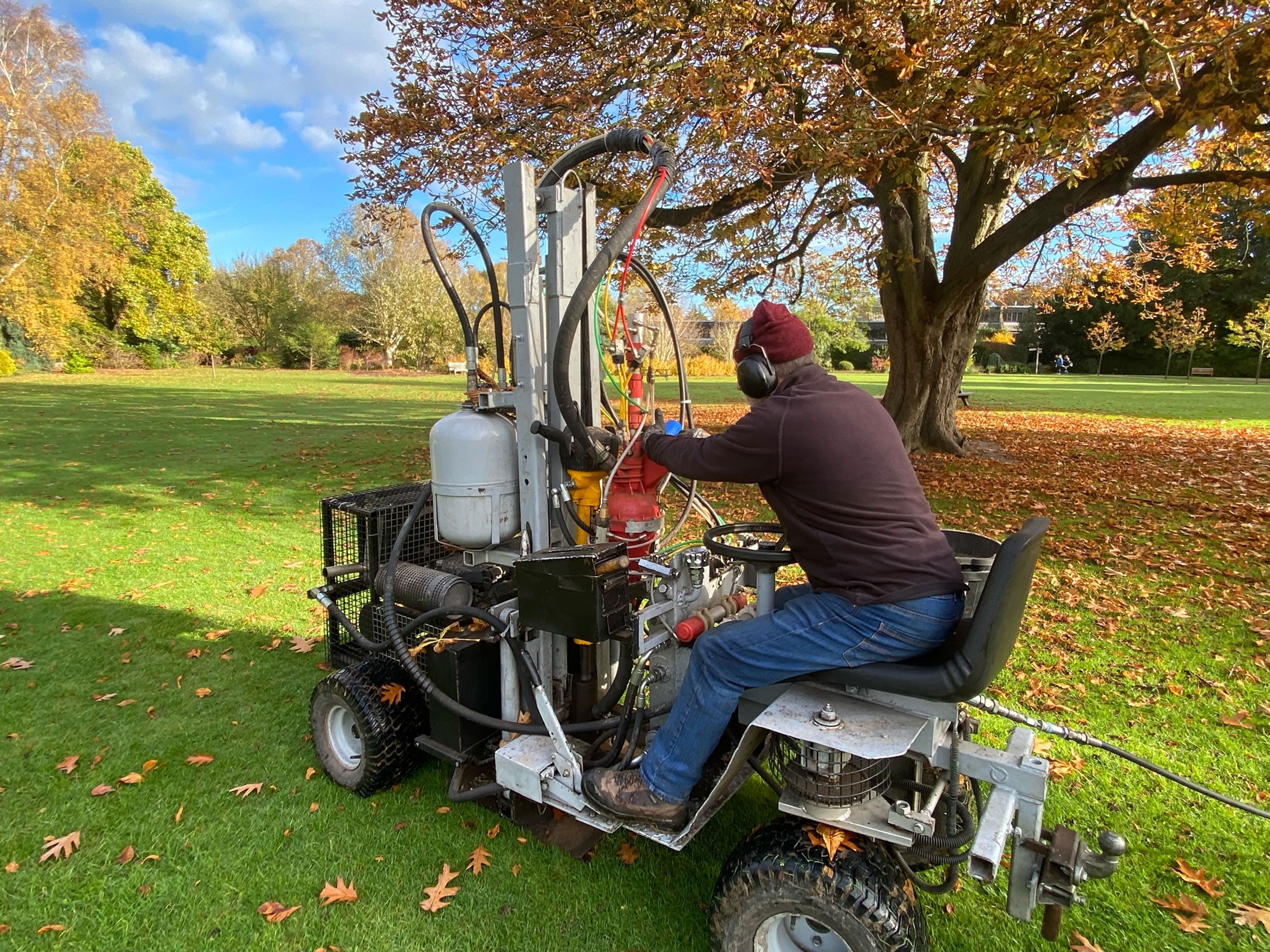 Terrain Aeration Services launches Tree Division
David Churchyard has joined Terrain Aeration Services to head up the new Terrain Aeration Tree Division. The company has been treating trees for over thirty years and sees this as an opportunity to expand their specialist service. David brings an extensive wealth of knowledge regarding pests, diseases and fungal growths to trees as well as turf. He was employed as a head forester for twenty-one years on a 6000 acre estate where he was involved in working on and looking after all aspects of the estate's extensive woodlands. This covered planting heritage oaks, caring for the veteran 900-year-old trees and drawing up management plans for current and future works. To increase his knowledge over the years, David has taken part in many lectures and courses on veteran trees in various locations, including Windsor Castle estate. He also took part in a film on AOD (Acute Oak Decline), the relatively new disease that began affecting many British oak trees since the last quarter of the 20th century. Climate changes are strongly affecting our trees and helping keep them alive is now a priority and one which David relishes in having a key role in.
Terrain Aeration's Terralift machine is recognised by Tree Officers as a solution to deep aeration and relief of compaction panning around tree roots. The Terralift is the only machine which can aerate around the root zone and put oxygen back into the soil. It breaks up compaction and panning, providing relief from waterlogging and the danger of the waterborne disease Phytophthora. Terrain Aeration's Tree Division can inspect and advise on suitable treatment without exposing entire areas of tree roots, which may cause undue stress to the trees. One metre deep penetration aeration treatment is used around trees and to treat compacted turf and grass areas. David has joined Terrain to head and expand the division and to get the critical message out there that "it's the roots that are the root of the problem!" Many trees of all ages are struggling with compaction. This means that essential nutrients are not getting down to the life-giving area of the tree. The message is simple, take care of the bottom-the roots-and the top of the tree will look after itself. Terrain Aeration 01449 673783
www.terrainaeration.co.uk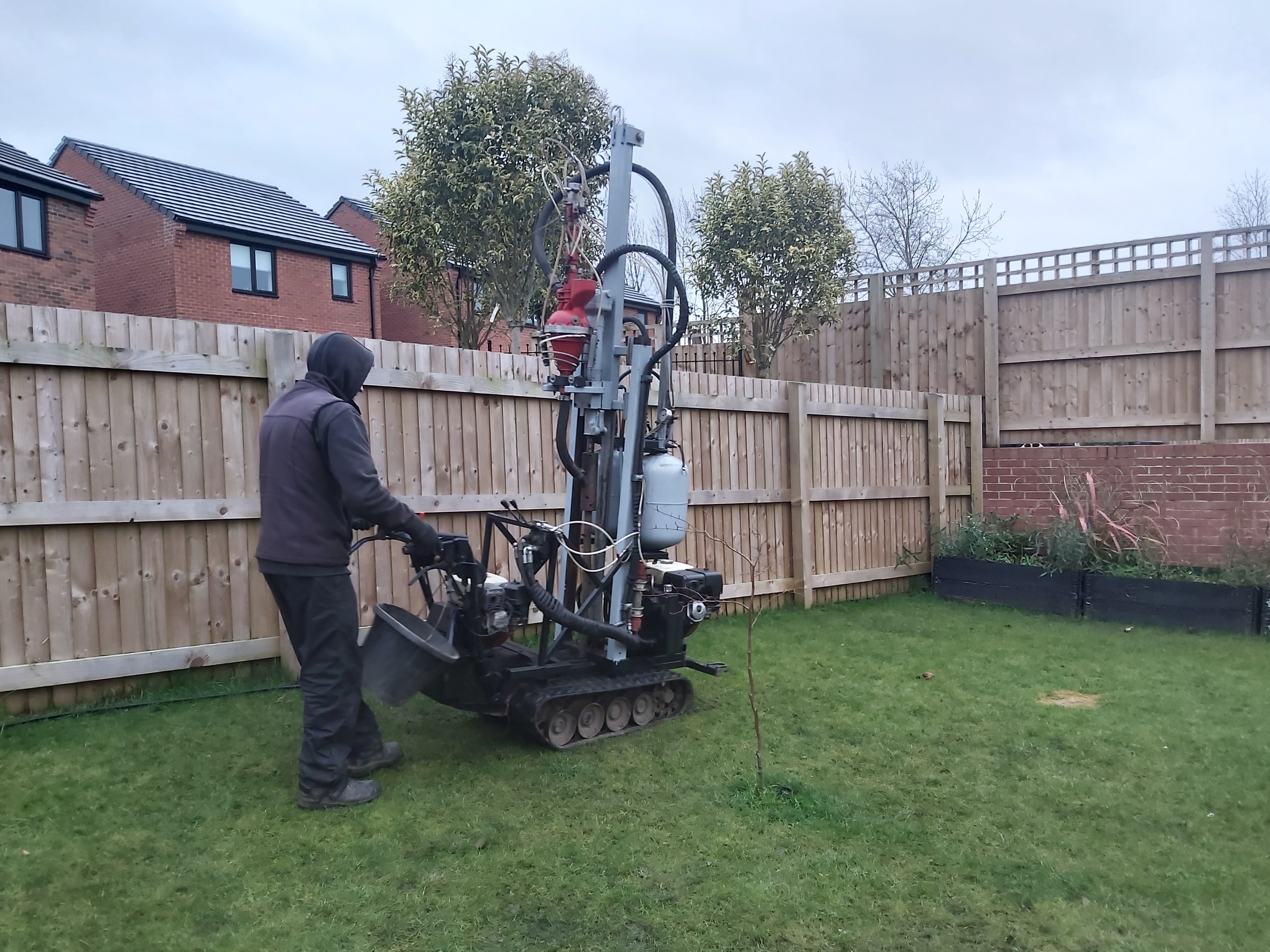 Gallery
Click to close
Videos
Terrain Aeration Services Serves The Following Areas
Find Terrain Aeration Services in
Terrain Aeration Services General Description
aeration services stowmarket soil aeration suffolk waterlogging relief compaction problems spiking suffolk waterlogged lawn problems Waterlogging Relief of Compaction soil aeration specialists