Time and date
CONSTRUCTION DIRECTORY
Glenvale Waste

Contact Details
Address
78 Fernaloy Road
Armagh
County Co Armagh
BT60 3LR
Northern Ireland
About Glenvale Waste
Glenvale Waste is a fully licensed waste carrier company equipped with the latest technology in the pipe cleaning industry. We are proud of the fact that we are capable of completing any jobs regardless of difficulty or extent. All personnel trained in Confined Space Entry, Breathing Apparatus and CSR Certified.
Our Extensive knowledge, professionalism and wide range of equipment all make it possible for us to take care of your problem in the shortest possible time with the minimum of disruption to your operation.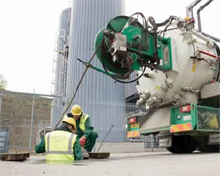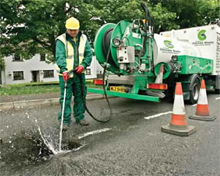 Our services include:
Blocked Drains,Toilets & Sinks
C.C.T.V. Video Inspections
Septic Tanks Emptied
Septic Tanks Upgraded
High Pressure Water Jetting
Hard Surface Cleaning
Glenvale Waste is a fully licensed waste carrier company specializing in Septic Tank / BioSystems Emptying. Our tanker with its powerful vacuum and onboard water supply can clean septic tanks biosystems quickly and efficiently. All customers are issued with a waste transfer note which complies with the environmental laws for the safe disposal of sewage.
If your soakaway is blocked we use our high pressure jetting systems to clear the blockage leaving it working efficiently.
We also offer an annual tank emptying service. Call us to book your preferred call time.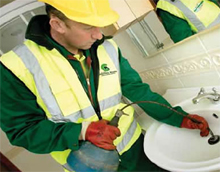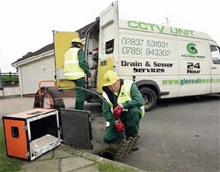 CCTV Drain Inspection
CCTV Drain Survey provides a thorough inspection of drainage systems without excavation. Glenvale Waste will quote and undertake any repair or replacement work required on completion of the Drain survey.
Cleaning Unit
Hi-specification 7.5 tonne Daf jetting unit will service blocked drains, toilets and sinks in domestic and commercial locations. All work is guaranteed and technicians are fully trained in the latest technology.
Emergency Service
Glenvale Waste provide a 24 hour call-out service for all drain and pipe blockages including sinks, toilets and sewers.
Graffiti Removal
Graffiti is considered an eyesore by many and is difficult to remove through normal cleaning. Using environmental friendly products we remove graffiti from almost any surface.
Hard Surface Cleaning
More commonly known as powerwashing, Glenvale Waste fully trained service engineers use handheld lances to strip deposits from floors, walls, canopies, machinery and tanks.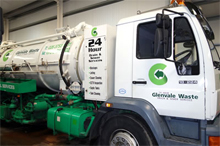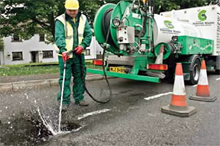 Glenvale Waste Serves The Following Areas