Time and date
CONSTRUCTION DIRECTORY
GCS Roof Coating

Contact Details
Address
Suite 422, 39 Barton Road
Bletchley
Milton Keynes
MK2 2LY
England UK
About GCS Roof Coating
Roof Coating has become a cost effective way of restoring and renovating your roof. The coatings offer an innovative product that is uniquely developed for the protection of various roof tiles. Restoring the vibrancy in your roof in a range of natural colours.
All of the moss and lichen that has grown on your roof over the years will start to erode the cement structure, more moss will grow, your roof will lose its colour.
We offer a range of professional services including Roof Cleaning and Roof Coating. With our full Roof Coatings package we will remove all of the moss and lichen, treat your roof to stop it growing back, and apply two coats of protective paint to give an old tired roof an amazing new look. A refurbished roof at a fraction of the cost of roof replacement.
Roof Coating
So you might ask yourself what are the benefits of Roof Coating? why would I need it?
More and more we are making home improvements as in the current climate many people are unable to move house. We pay out for fixtures and furnishings but seem to forget the most important part, the roof over our head. It protects us every day so we need to protect it.
Roof Coating protects your roof from the damp UK climate. Our Roof Coatings are water resistant and aid in the prevention of damp patches and inhibit the growth of moss and lichen, which itself eats away at your roof tiles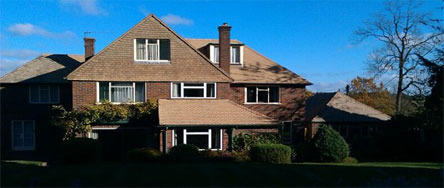 Roof Cleaning
How many of us have unsightly stains, moss and algae on our roofs. With our Roof Cleaning Service we specialise in Removing Moss From Roofs.
Whilst preforming a Roof Wash our technicians use soft wash systems which do not damage your roof tiles.
Roof Cleaning is becoming more and more popular throughout the UK as a means of extending the life of the roof and has the added benefit of enhancing the appearance, thereby adding value when you come to sell your house.
Driveway Cleaning
GCS Roof Coating also provide a professional Driveway and Patio Cleaning Service.We use a selection of professional pressure washing machines for all our cleaning. From small low power petrol pressure washing machines for cleaning small areas such as block paving and patio cleaning to high power diesel operated pressure washers for use in cleaning larger areas such as driveway cleaning and commercial areas such as forecourts and car parks, vehicular access ways and hard standing areas
GCS Roof Coating Serves The Following Areas
GCS Roof Coating Branches
GCS Roof Coating
Suite 422, 39 Barton Road, Bletchley, Milton Keynes, MK2 2LY
Click to view telephone number