Time and date
CONSTRUCTION DIRECTORY
JSP HIRE SERVICES LTD.

Contact Details
Address
DETAILS REMOVED
DETAILS REMOVED
IRELAND
About JSP HIRE SERVICES LTD.
Since 2001, our family-owned-and-operated business has served the Mid West area with our quality-assured septic tank cleaning services.
Drain cleaning - Drain cctv - Drains unblocked - Septic tank cleaning & emptying - Desludging - Bio cycle tank cleaning - Environment cleaning - Sewer cleaning - Powerwashing - Steam cleaning - Water jetting
From a blocked drain or full septic tanks, to large scale commercial and industrial projects and cleaning, our fully licensed technicians are ready to help. limerick Drain Services are available 24 hours a day, 7 days a week (for emergencies).
Check the services we provide:
Drain unblocking
Drain cleaning
High pressure jetting
All types of sewer cleaning
Septic tanks emptying
Septic tank cleaning

Steam cleaning
Power hosing
High pressure steam cleaning
CCTV pipe cameras inspection
And much more coming soon!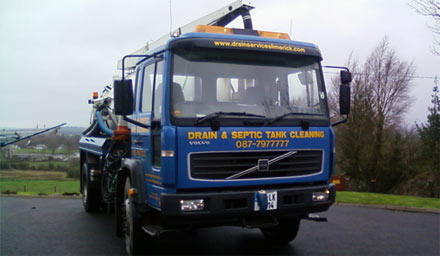 As well as providing general drainage services, we offer specialist services including high pressure jetting, all types of sewer cleaning, septic tanks empting, septic tanks cleaning, steam cleaning, power hosing and high pressure steam cleaning for houses, schools, pubs and all types of businesses.
We are ready to be of service to your home, business or rental property. We operate seven days a week, 24 hours a day (for emergencies) and are waiting to take your call.
Drain Cleaning
We provide three different types of drain cleaning, such as:
Drain unblocking
High Pressure jetting
CCTV Camera Inspection
Why is it always when you least expect it, the worst happens. It could be water leaking through walls or an overflowing sewerage system. At JSP Hire we provide a 24/7 emergency callout service to your home, business or industry to assist you.
Septic & Sewer Emptying & Cleaning
We provide all types of sewer cleaning, septic emptying & septic tank cleaning
Sewer Cleaning
Septic Tank emptying
Septic Tank Desludging
Septic Tank Cleaning
Our extensive range of specialist drain and sewer equipment and accessories, along with a high spare parts stock is combined with years' experience in the septic tank and sewer cleaning equipment industry to ensure you, receive the best advice and service at all times.
Drain Services
We are equipped with water-jetting units to give a sparkling result to your drain. Every JSP vehicle is equipped with root-cutting equipment and top of the range cleaning equipment. We have the latest in CCTV pipe camera to take a closer look at what is causing the problem
We can quickly diagnose your problem and supply you with a quote that day for any repairs needed.
Services That Meet Your Requirements
We offer a fast, friendly and cost effective high pressure steam cleaning, power hosing services and will show both you and your property the respect they deserve.
Our extensive range of industrial cleaning equipment enables our staff members to effectively handle a vast array of commercial and industrial exterior maintenance projects.
Contact Us

JSP HIRE SERVICES LTD. Serves The Following Areas
Find JSP HIRE SERVICES LTD. in