Time and date
CONSTRUCTION DIRECTORY
Corcoran Window Furnishings Limited

Contact Details
Address
Killeen
Multyfarnham
Co Westmeath
County Co Weastmeath
Ireland
About Corcoran Window Furnishings Limited
SPECIALISTS IN: RAILS, POLES, BLINDS, CURTAINS, ACCESSORIES, FLYSCREENS
See our website for a full collection:
www.cwf.ie
Corcoran Window Furnishings Ltd (CWF Ltd.) was established in 1976 by the existing managing directors Gerry and Nuala Corcoran. With over 30 years in business we have successfully established a competitive wholesale company which supplies businesses in Ireland, Northern Ireland and the United Kingdom. We are constantly introducing new products to suit all our customers both from independent manufacturers and our own in house design team. This enables us to maintain an extensive range of products keeping us ahead of our competitors.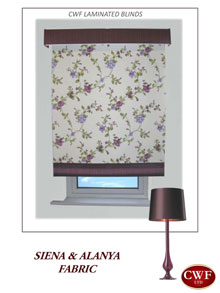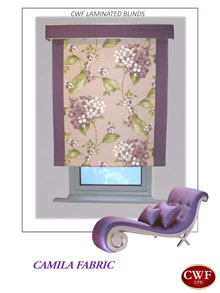 Our products are leading the market in areas such as motorised, battery operated and solar panelled blinds. We provide an experienced support team to advise and assist with all areas of our products. CWF Ltd. specialise in the manufacture and supply of bay window curtains and rails, and all types of window blinds all in bespoke or kit form. We provide a made to measure make up service for Roman blinds, Roller Blinds, Laminated Blinds and Vertical Blinds.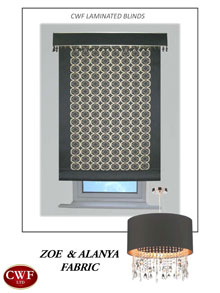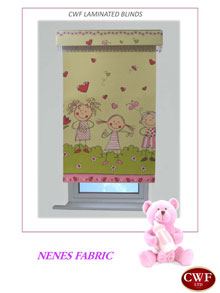 CWF Specialise in bespoke bay window configuration for Roman Blinds, Poles, Curtain Tracks and Rails in motorised or manual form. CWF specialise in supplying to the contract market bespoke hotel rails, poles, cubicle rails and magnetic rails. We also supply disposable curtains coving the health and safety requirements for 2011.
CWF also supply a wide range of Roman Blind, Laminated Blind and Curtain fabric. We supply by the cut length or by the roll. Among our range of fabrics are flame retardant (BS 5867-2) Treveria Fabric which we can supply in Roman Blinds, Curtains and Laminated blinds.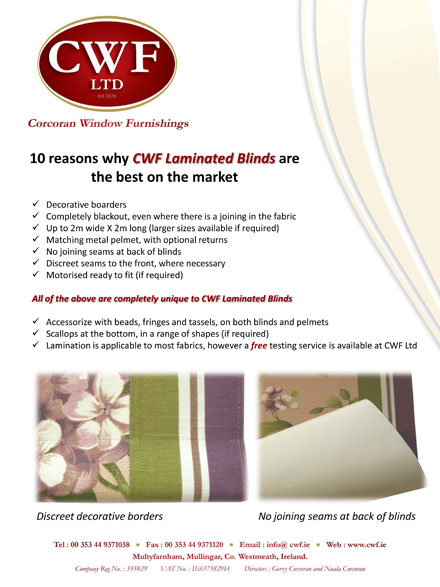 CWF also include a large range of eyelets and eyelet machines and all types of Industrial sewing machines and steam irons in our portfolio.
We at CWF understand the requirements and expectations of our customers through years of experience in the field, with this in mind we are able to provide a service suited to our clients needs.
Corcoran Window Furnishings Limited Serves The Following Areas
Find Corcoran Window Furnishings Limited in