Time and date
CONSTRUCTION DIRECTORY
The Skylight Company

Contact Details
Address
Teignmouth Road
Gosport
England UK
About The Skylight Company
Quality isn't just important, it's vital. We manufacture the highest standard rooflights & skylights in the UK.
You can be sure that when fitting our products, you're fitting the best!
Dome Rooflights
At The Skylight Company we offer a wide range rooflights to meet all of our customers needs and specifications. We stock a large selection of dome skylights designed for flat roofing systems. Dome skylights are designed to work with all types of waterproofing membranes currently on the market, including EPDM, felt, liquid systems (I.E Liquid rubber, Icopal, etc), hot melt, asphalt, lead, GRP fibreglass and more.
Dome skylights are available in a range of different sizes and specifications. Single, double and triple skin domes are available in either acrylic or polycarbonate and all of our flat roof skylights can be supplied with a uPVC upstand and a range of different ventilation options.
90% of our dome rooflights are in stock ready for immediate dispatch to anywhere in the UK on a next day delivery service*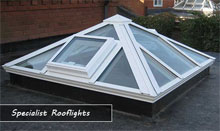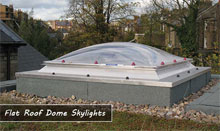 Sun Tubes / Sun Tunnel
Sun Tubes (Sun tunnel, Sun pipe, Solar tube) are a fantastic and economic way to inject your home with natural day light when a typical roof window can't do the job. When a room has low level of light, a sun tube can be installed and by means of extracting sunlight from the roof area and passing it down a rigid or flexi tube in to your home.
Tubular skylights can be installed on flat roof or pitched roof and come as a complete kit including all of the necessary flashings and materials.
Flat Rooflights
Glazed skylights are a popular choice for many reasons. Not only do they offer fantastic insulation values, but they are visually stunning and contemporary. All of our flat rooflights offer a double glazed glass pane as standard, powder coated frame for durable and sleek finish, and all come with many optional extras.
Bespoke Continuous Rooflights
Bespoke continuous rooflights are manufactured to the highest standards using polycarbonate glazing and extruded aluminium cill sections and meet neccessary EN standards. Barrel vault rooflights are designed to make optimum use of natural daylight and can span up to 6 meters wide and be an unlimited length.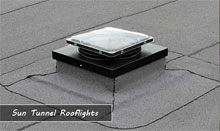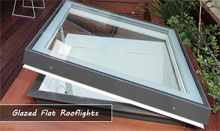 Specialist Rooflights
Our specialist range consists of Monopitch, Gable-Ended and Pyramid rooflights, as well as Roof Lanterns. All of which have multiple glazing options including hermetically sealed glass units or polycarbonate glazing.
Our specialist range are all bespoke manufactured so can be designed and built to any requirements. Each rooflight will also include bespoke flashing kits and cill details to suit.
Smoke Ventilation Systems
Typically smoke ventilation systems are used in stairways and annex connections in industrial workspaces and offices. Smoke Vents allow smoke and heat exhaust to escape to keep fire escape routes and fire brigade access clear from smoke in the chance of a fire.
Installing a smoke ventilation unit will retain all of the fire resistant properties a structure might have, reducing the amount of damage that can be caused to valuable assets.
All of our units comply with building regulations on smoke ventilation.
Roof Edge Trims & Accessories
For a professional finish it's important to make sure your flat roof is aesthetically pleasing from the ground. This is where our roof edge trims come in to play.
We offer a large range of different profile edge trims to suit our customer and client needs. All of our flat roof edge trims are supplied in long 3 meter lengths. We supply pre-fabricated corner pieces to make our edge trim system a complete kit.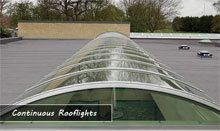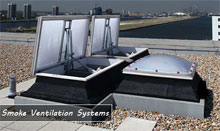 The Skylight Company Serves The Following Areas
Find The Skylight Company in