Time and date
CONSTRUCTION DIRECTORY
Crowberry Consulting (training)

Contact Details
Address
Chorley Business and Technology Centre
East Terrace, Euxton Lane
Chorley
County Lancashire
PR7 6TE
England UK
About Crowberry Consulting (training)
Twitter
Facebook
LinkedIn
Crowberry Consulting Ltd is an environment energy and ethics consultancy, training provider and auditor. Established in 2006 we work both in the UK and overseas to support business clients with ISO implementation and ethical management. We have over thirteen years of direct industry experience of delivering sustainable solutions and have direct experience in the construction sector.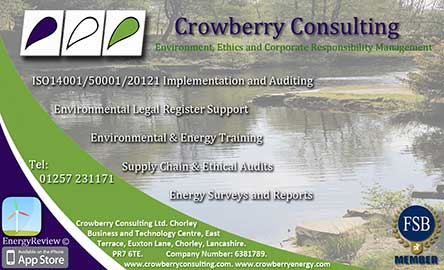 Crowberry Energy
Crowberry Consulting has now launched Crowberry Energy www.crowberryenergy.com a new service for existing and new clients which will feature products and technologies in the renewable energy sector. Our aim is to provide a solution for clients looking to install micro-renewables such as rain water harvesting, solar panel and solar lighting, ground source heat pumps and similar.
We also aim to provide products such as portable energy meters to help managers understand their energy consumption patterns across sites. We have selected a range of approved suppliers that can install micro renewable technologies both for commercial and domestic purposes.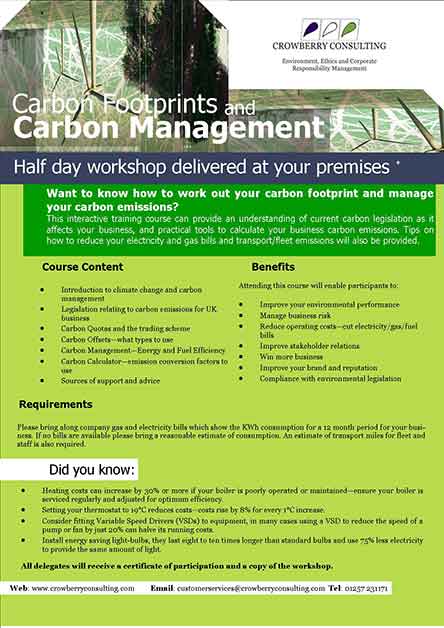 Carbon Reduction
Crowberry Consulting can offer a half day Carbon Footprint Workshop delivered straight to your premises, showing you how to calculate your carbon footprint and how to lower your carbon emissions through a carbon management strategy.
Corporate Social Responsibility
This training course, aimed at company directors and managers, will improve your understanding of the main CSR (Corporate Social Responsibility) issues. The revised Companies Act states that directors need to know their businesses environmental and community impacts.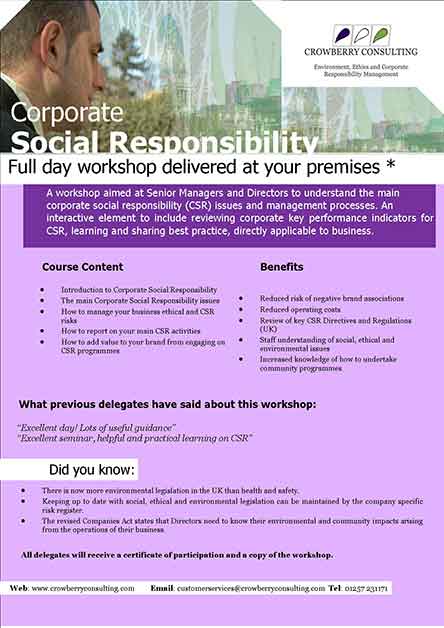 Sustainable Events - ISO20121:2012
Crowberry Consulting can work with venues, hotels, conference centres, stadia, to implement and measure sustainablilty, including the carbon footprint, of your events.
ISO20121:2012 is an event sustainability management system. This Sustainable Events Standard is designed to help event organisations recognise their impact on the economy, society and the environment and show them how to run sustainable events.
ISO 50001 Energy Management Training
ISO50001 is designed to help you carefully manage your energy usage throughout your processes to identify weak links in your energy chain and identify opportunities to save money or implement improvements.
Environmental Auditing
Crowberry Consultings environmental audits can reduce your energy consumption, waste bills, water bills, and also reduce your environmental impacts and carbon footprint whilst saving you money.
Environmental Standards
Crowberry Consulting will help you implement these standards ensuring your business will become more environmentally friendly.
Crowberry Consulting (training) Serves The Following Areas