Time and date
CONSTRUCTION DIRECTORY
SSQ Natural Slate (Northern Ireland)

Contact Details
Address
301 Elveden Road
Park Royal
London
NW10 7SS
England UK
About SSQ Natural Slate (Northern Ireland)
SSQ have been supplying people with the ultimate in natural roofing slate since 1983. That's 30 years and counting of whispered awe as customers step back to take in the sight of their finished building for the first time.

There is nothing like being captivated by your finished project, and knowing that not only does it look beautiful, but it will last a lifetime too. Natural slate has a spellbinding magic to it. Maybe it's because it has been millions of years in the making, maybe it's because every single slate is split by hand or maybe it's the way the sun plays across its surface, revealing a rich shimmer unique to a material so skilfully carved from the earth.
Whether you are an architect, a homeowner, a contractor or you are involved in heritage projects, SSQ slate will add magic to your building.

Slate For Architects
Whether you're restoring a historical gem, crafting a modern wonder or simply making the world a little more beautiful one building at a time, we've got the slate for you. The last thing you need is problems with the specification process or worse, problems on site.
That's why we give you unrivalled product and technical support. Yes, we've got 100 year product guarantees. We're passionate about getting natural slate onto roofs, so it's our mission to make the whole process as easy as possible for you.
Slate For Homeowners
Slate is nature's crowning glory for your home. There is no substitute for natural slate, and with a range of unique colours, sizes and styles, you'll find the perfect slate for you.

Slate for Contractors
Choosing a slate supplier is an important decision. It can make the difference between a job running smoothly and a string of fitting problems and delays.
Slate for Local Authorities
Finding the right heritage slate on budget for your project can be a challenge. It is with great pride we tell you that several SSQ slates have on numerous occasions in the past, been accepted as an alternative to indigenous material for use on listed buildings and approved for general use in conservation areas for the best part of a decade.

Slates
Riverstone
Del Carmen
Matacouta
Del Prado
Domiz
Saria
Silverstone
Architectural Stone
Riverstone Architectural is the diamond of the architectural stone world.
SSQ's signature stone is not actually slate, it is phyllite. Harder, denser and stronger than slate, phyllite is the perfect stone for flooring, cladding, stairs, skirtings, worktops, copings, swimming pools, sills and patios.
Every Riverstone slate comes from the same high quality seam of rock, so you can be sure that you'll get consistent quality, effectiveness and extraordinary beauty with every single slate.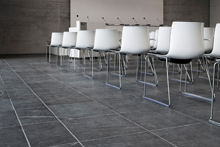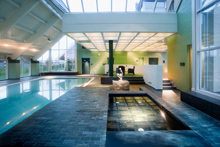 SSQ Natural Slate (Northern Ireland) Serves The Following Areas
Find SSQ Natural Slate (Northern Ireland) in