Time and date
CONSTRUCTION DIRECTORY
Corcoran Precast Tanks

Contact Details
Address
Ballybromell
Fenagh
County Co. Carlow
Ireland
About Corcoran Precast Tanks
Corcoran Precast Tanks is an Irish-owned family business founded by Frank Corcoran in Carlow over 10 years ago.
Since its establishment, Corcoran Precast Tanks has continued to develop services in the supply and installation of waste water treatment systems, rain harvesting systems, septic tanks and associated products.
Corcoran Precast Tanks serves both domestic and commercial customers at very competitive rates, offering reliable and efficient installations and quality after sales service.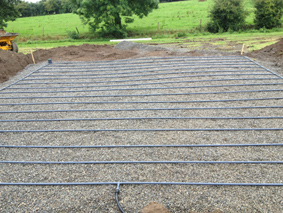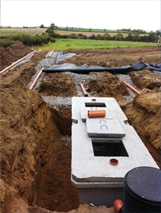 Products
Waste water treatment systems
Tanks – precast concrete
Rainwater harvesting systems
Septic tanks
Percolation Boxes
Interceptors – petrol/oil
Pumping stations
Grease traps
Services
In-house engineers, ready to advise and assist with any query
Efficient after-sales service with on-going maintenance as required, following installation
Continued high standards to meet customers' demands
Expert advice and service
NSAI Registered
Sewage Treatment System For Single Houses
Uses substantial pre-cast concrete tanks requiring infrequent de-sludging
Is completely underground
Has low running costs
Is Agrément Board certified
Can be retro-fitted to an existing well-installed septic tank
Comes to you from a long establised local company
Purchasing the right sewage system is a very important decision. To save money and years of hassle, it is vital that you make the right choice. Call us for a free consultation on: 059 9727956 or contact Frank on 086 8168371. We can advise you on site suitability details for planning application and on your waste water treatment and percolation requirements.
General
The Aswaflow Wastewater Treatment System is Agrément Board approved (Certificate No. 02/0149)*
Output as low as: BOD5 – 15mg/l COD – <75mg/l S.S – <30mg/l NH3N – 10mg/l (Nitrogen reduction.)
The system can discharge to a raised percolation area with no extra cost to you
System includes one aeration and two submersible pumps and is suspended below the manhole trap in the secondary treatment tank for very easy maintenance and service
The small control panel with alarm may be located in the house or in a utility area
Service & maintancence contracts as per requirements of local authorities are available
For effective operation and treatment by the system, it is essential that the percolation area should be designed and built correctly. Follow the guidelines as set out in either the S.R.6. (1991) or the EPA guidance manual Treatment Systems for Single Houses
Corcoran Precast will gladly assist you with any information or guidelines regarding any aspect of wastewater treatment at no extra cost
We also design commercial systems for:
Housing Developments, small or large
Restaurants and Pubs
Caravan Parks and Nursing Homes
Oil Interceptors, Grease Traps and Small Pump Stations etc.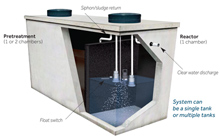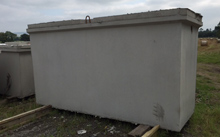 Corcoran Precast Tanks Serves The Following Areas