Time and date
CONSTRUCTION DIRECTORY
Canopies.ie Ireland

Contact Details
About Canopies.ie Ireland
Canopies.ie Ireland is an arm of Awnings.ie - Ireland's leading manufacturer and installer of Awnings, Canopies & Blinds.
We operate a Nationwide Service - Commercial and Residential.
Canopies.ie Ireland caters specifically for Canopies and Walkway Awnings.
We protect households and businesses across the country from the unpredictable Irish weather.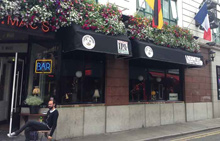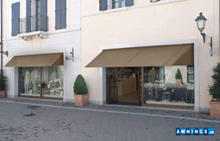 Canopies
A traditional form of external shading both domestic and commercial properties with a good visible surface area for signwriting
Dutch blinds are one the most popular types of external blinds both in the domestic and commercial markets. The quarter circle design allows for the side legs to be fixed to the building thus improving stability in windy conditions. Installation on shops, hotels etc also allows increased signwriting opportunities on both the front and side panels.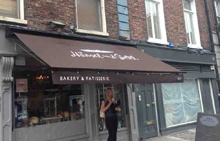 Walkways & Awning Stuctures
Walkways and approach awnings are very popular additions to the frontage of hotels, clubs and restaurants.
Approach Awnings
The construction of approach awnings is from the same extrusion as Dutch blind systems and these rigid structures provide a highly visible advertisement for the premises together with the practicality of giving weather protection to the patrons. Computerised bending of the Dutch blind extrusion together with the vast range of specifically designed components now available for approach awnings and walkways provide an almost limitless range of shape, size and design.



Glass Veranda Canopies.ie
Glass verandas are the easiest way to transform a patio or a terrace into a new covered living space, providing comfort in every weather condition. We propose the best solution to your needs and your preferences, always giving a look to the perfect integration of our verandas with your home and the nature around you.
To have an idea of our products and services, you may visit our @canopies.ie



Walkways
These are basically an extension of the approach awning (i.e. longer) and are generally used to connect one building with another to give weather protection. Construction is the same but due to the lengths involved it will be necessary to construct a heavy duty aluminium base frame mounted on awning poles and brackets. The walkway frame can then be bolted to the top of the base frame. All must be secured back to the building(s) where possible.
Victorian Old Style Awnings
The 'traditional' blind as we know it today was the standard form of shop blind before the introduction of folding arm awnings. There is a significant quantity still in daily use which is a testament to the design and the materials used. This blind style is specified mainly for use on shops within conservation areas and other areas of special interest, although it can be fitted in any location.
Types and Operation
Traditional blinds are usually supplied with arms and slides and occasionally with trellis extension arms. Pivot or 'shoe' arms are also available.
The blinds with arms and slides or trellis arms are supplied with a pull down pole for operation. Those supplied with pivot arms can be operated by gearbox or electric motor as well as by means of a pole. The blinds are wound on helical spring rollers, or on geared or electric motorised rollers. The rollers are housed in specially constructed wooden blind boxes with wooden front laths of a raised panel or ogee profile.
Blind boxes were originally fixed above the name fascia or entablature, and this allowed for the blind cloth to be set at a steep angle which gave a pleasing aspect to the blind, better ventilation and better weathering. The present tendency is for blind boxes to be fitted below the name fascia panel and consequently a much flatter blind is the result. This sometimes calls for the introduction of brass rainwater drain eyelets on the cover. Wherever possible, consideration should be given to positioning the blind box at the highest level.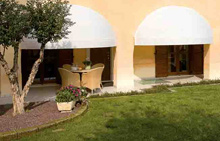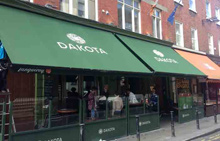 Gallery
Click to close
Products & Services
Glass Veranda
Awnings, Canopies, Retractable Roof Pergolas, Glass Roof systems, Glass windbreakers & Fabric
Glass Canopy Roof
Canopies.ie Ireland Serves The Following Areas