Time and date
CONSTRUCTION DIRECTORY
Allspray Supplies Ltd.
Allspray Supplies Ltd is one of the largest suppliers of industrial paint spray equipment in Ireland. We supply well known brands such as Wiwa, Airlessco and Q-Tech.
We supply and service the following industries:
Structural Steel
Agri-Machinery
Marine
Furniture and Joinery
Painting Contractors
We offer a huge range of Wiwa Plural Component Systems which are becoming more in demand as companies try to find ways to reduce costs and emissions. Here is an example of two plural systems from Wiwa.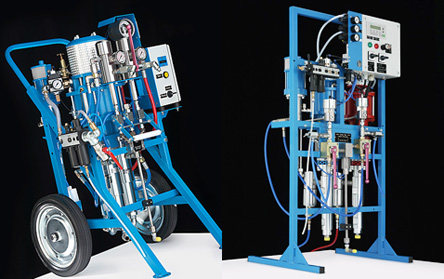 WIWA DUOMIX 230
The compact and versatile WIWA DUOMIX 230 is based on the worldwide proven and reliable system concept of the WIWA DUOMIX 300/333 plural component heavy-duty coating systems.
The modular design enables individual solutions for almost all fields of application. The DUOMIX concept gives you the assurance of a fixed mixing ratio and the flexibility of a variably adjustable plural component system. With just a flick of the wrist the system can be converted to other mixing ratios by simply exchanging the hardener pump, without the necessity of cc-ing and adjusting. Efficient and environmentally friendly.
WIWA FLEXIMIX II - PHOENIX
The plural component system for spray painting and coating applications in industry and craft trade. The FLEXIMIX II PHOENIX is a powerful, robust and versatile plural component spray painting and coating system with variably adjustable mixing ratio. The curiosity and innovative consciousness of our engineers always leads to most surprising solutions. The electronic control of the FLEXIMIX-II systems is just one of these results. It ensures highly accurate dosing in every-day operation, making this system concept fit for almost all applications in industry and craft trade. The FLEXIMIX-II system can also be used as single component spraying unit, if required.
Allspray Supplies Ltd also carries a huge stock of spare parts and accessories for all of the leading brands as well as Graco, Titan and Wagner. From tips and filters to spray guns and hoses. We also have over 13 years experience in the service and repair of paint spray equipment, we will service most of the major brands.
We also have specials each month on spares and accessories.
If you have any questions or need a demo of one of our machines please do not hesitate to contact us.
Allspray Supplies Ltd.
Unit 9, Ashbourne Business Centre
Ashbourne