Time and date
CONSTRUCTION DIRECTORY
Conger Enterprise Ltd.
Cavity Wall Insulation Cutting Aid
Red Lad insulation cutting frame is an innovative cavity wall insulation cutting tool designed to save time and MONEY.
Simply measure, slide and saw.
Cuts 90° or 45° internal and external angle pieces with ease.
No more fuss. No more waste. Red Lad: Problem solved.
The Contractor's Choice
Benefits
Cuts down on time involved in measuring and cutting
No unnecessary waste - precise cuts every time
Eliminates Taping Joints
Cuts full fill cavity insulation up to 150mm thickness
Dimensions: 600mm H x 300mm L x 300mm W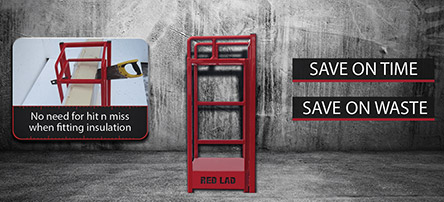 Conger Enterprise Ltd.
1532 Station Road
Allenwood North
Naas